About a month ago, I talked about 4.00% being the magic number for General Electric (GE) in a number of ways. One of those ways was the annual dividend yield, because the stock's fall was putting this number in play. Despite a huge market rally on Monday, GE shares actually declined, with the stock less than 75 cents from this key dividend level at the day's low. Will this be the point at which investors see value from the name again?
Last September, the board declared a $0.24 quarterly dividend, at which point the forward yield was 3.95%. Unfortunately, this became a misleading number for GE because as the stock fell, more and more concerns built up about a dividend cut, so it was hard to use that payout rate to project a yield. Things reset in early December, when the current rate of $0.12 was declared, and the chart below shows how that yield has fared on a closing basis since.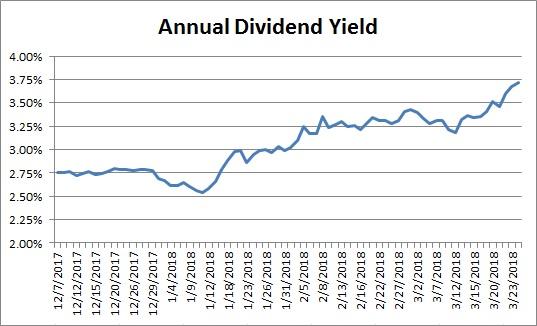 (Data sourced from Yahoo Finance. Last data point on chart is for Monday, March 26th close of $12.90)
With shares hitting a low of $12.73 on Monday, the annual yield was up to 3.77%. As you can see below, even after GE shares bounced a little into Monday's close, the current yield is well above even the longest dated US Treasury. Looking purely at income potential, GE represents a better play moving forward if you believe the payout remains at its current level.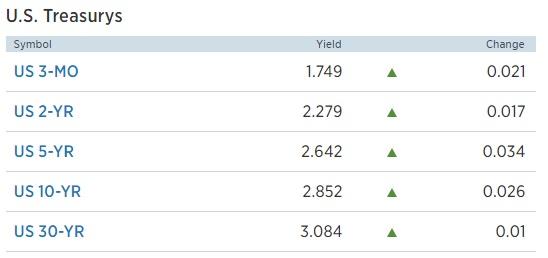 (Source: cnbc.com)
The odd part about Monday's decline for the stock was that the market soared, with the Dow up almost 670 points on the day. There wasn't a major catalyst that sent GE shares lower, outside of the Wall Street Journal worrying a little about about risks left over from the company's once massive lending business. Even names like Facebook (FB) and Tesla (TSLA) that have seen plenty of negative news recently managed to go positive by the close, something that didn't happen with GE.
With the stock doing so poorly lately, and nobody sure of what will happen with the business moving forward, it might not be a surprise that JPMorgan slapped a street low $11 price target on the name a few weeks ago. This was based on the notion that normalized free cash flow per share looks to be well below the street consensus, and we're not even at a trough. On the flip side, there are those arguing for plenty of upside for the beaten down name, with Melius Capital stating that a breakup likely undervalues the business by 25% or more than previously estimated.
The question for investors is does GE now become a value play? Well, that likely depends on what you think of potential earnings. If you think that the street's projection of $1.06 in 2019 is fair or even low, then a forward P/E a little north of 12 with a dividend yield of 3.7% seems like a decent value at roughly half of the S&P 500's current trailing P/E ratio. However, if you think the situation will get much worse and earnings per share could fall as low as say 80 cents next year (a bit worse than street low of $0.85), a P/E above 16 currently is a bit harder to stomach in a declining revenue/earnings scenario.
With GE shares hitting another low on Monday despite a tremendous market rally, I'm wondering today at what point investors will consider the name a value. Will it be the 4.00% annual yield that the stock is fast approaching? With a forward P/E in the low teens, the name is certainly not expensive if you think management can get the business going again, but again, a cheap stock can always get cheaper if the situation worsens. Do you see value in General Electric currently? I look forward to your comments below.
Disclosure: I/we have no positions in any stocks mentioned, and no plans to initiate any positions within the next 72 hours.
I wrote this article myself, and it expresses my own opinions. I am not receiving compensation for it (other than from Seeking Alpha). I have no business relationship with any company whose stock is mentioned in this article.
Additional disclosure: Investors are always reminded that before making any investment, you should do your own proper due diligence on any name directly or indirectly mentioned in this article. Investors should also consider seeking advice from a broker or financial adviser before making any investment decisions. Any material in this article should be considered general information, and not relied on as a formal investment recommendation.