Seaspan Corp. (SSW) is the world's largest independent owner, operator and manager of containerships. It has an average of ~4.75 years remaining on its long-term charters, which represent 90% of its revenue. The company has had its ups and downs over the past few years and actually cut its common dividend from $.375 to $.125 in April 2017.
We went with the Seaspan Corp. 7.875% Series H Cumulative Redeemable Perpetual Preferred Shares (SSW.PH), since there will be dilution to the common shares, due to warrants issued earlier in 2018. (See Risks section for more details on the common shares.)
SSW-H has done well for the Hidden Dividend Stocks+ portfolio, delivering a total return of 11.35%, since we added it on 1/10/18.

SSW had very strong Q2 '18 earnings, with revenue up 37.7%, EBITDA up 16%, and net earnings up 140%. CAFD slipped 5%, but was up 38% vs. Q1 '18. Q2 '17 also had a one-time $31M asset sale gain.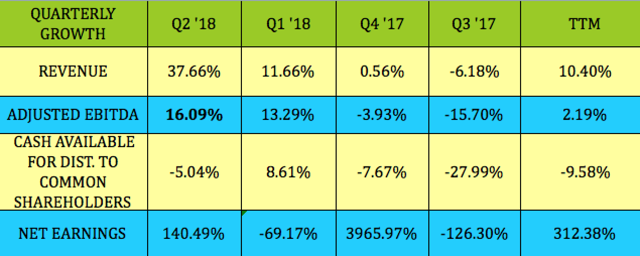 SSW's new vessel assets really kicked in for Q2 '18, which ramped up revenue, EBITDA, and CAFD big time vs. Q1 '18. Net earnings were up slightly, vs. Q1 '18.
In late March '18, management announced that it had acquired the remaining 89% it did not own of Greater China Intermodal Investments LLC ("GCI") from affiliates of The Carlyle Group and the minority owners of GCI.
"GCI's fleet of 18 modern containerships is comprised of high quality 10,000 TEU and 14,000 TEU eco-class vessels, representing a total of 204,000 TEU. Of these 18 vessels, there are currently 16 on-the-water vessels with the remaining two newbuild vessels scheduled for delivery during the second quarter of 2018.
"GCI's current fleet will contribute approximately $1.3 billion toward Seaspan's contracted future revenues, increasing Seaspan's total contracted future revenues to approximately $5.6 billion. In calendar year 2019, with an 18 vessel fleet, GCI is expected to generate $185 million to $200 million in annual EBITDA." (Source: SSW site)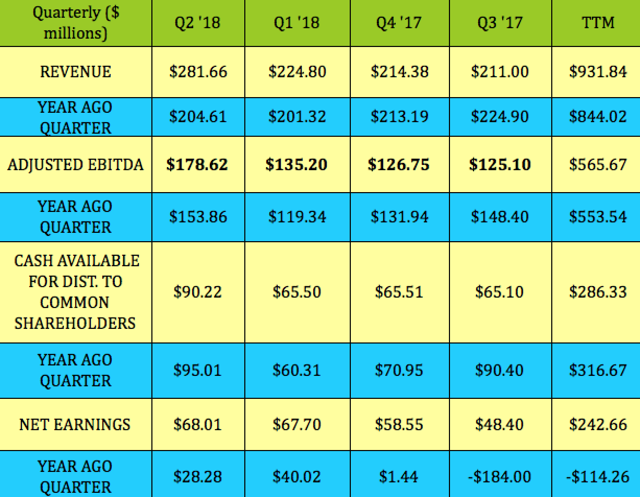 Fleet Performance:
SSW had a healthy increase in its fleet's ownership days in Q2 '18, rising 18.8%, due to the additional vessels which it acquired in Q1 '18.:

(Source: SSW site)
Utilization was also strong, at 98.6% in Q2 '18, and has averaged 97.8% so far in 2018, vs. 95% in Q1-2 '17: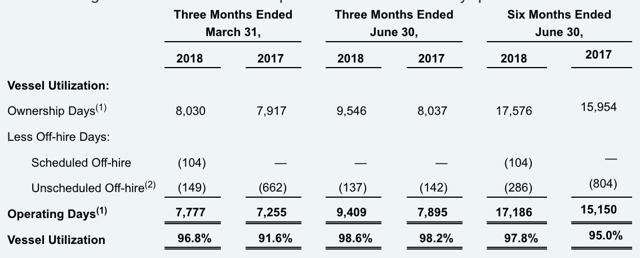 (Source: SSW site)
Guidance:
Management issued Q3 '18 guidance, which indicates that revenue will increase again in Q3 '18, although at a slower rate, to at least $291M, vs. $282M in Q2 '18. The lower end of the expense items ranges listed below are roughly in line with those of Q2 '18, which suggests that SSW should have another solid earnings quarter.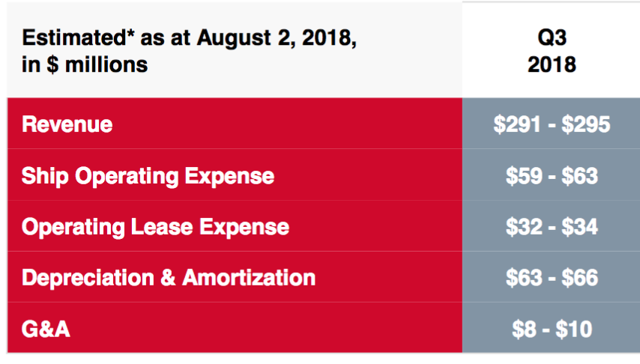 Preferred Distribution:
These are cumulative shares, meaning that Seaspan must pay you for any skipped dividends, before paying common dividends.
In addition, they rank senior to the common in a liquidation scenario, and they have much better dividend coverage. At $25.35, the current yield is 7.77%.

The call date isn't until 8/11/21, and there's no maturity date. This table details your annualized yield to call date, if SSW's management were to redeem these shares on the 8/11/21 call date.
Since they're only $.35 above the $25.00 call price, the annualized yield to call date is 7.43%, not too far below the current yield.

SSW's preferreds already had strong EBDA coverage of over 7.86X in Q1 '18, which improved to 8.08X in Q2 '18: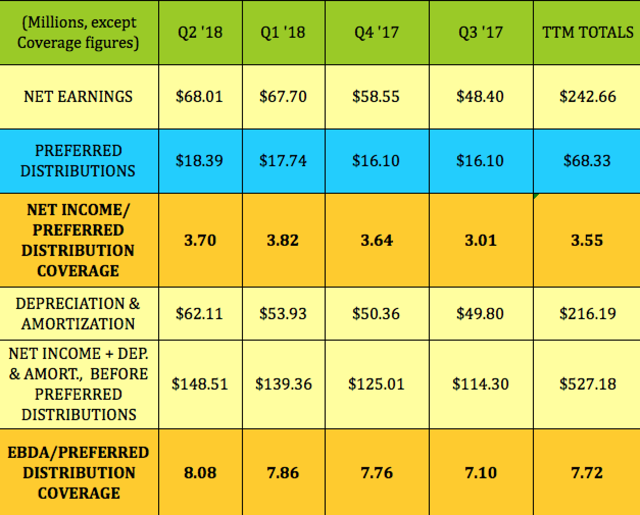 SSW has 3 other preferred series, (SSW.PG), (SSW.PD), and, (SSW.PE), but two of them are either past or are approaching their call dates much sooner than SSW-H. SSW-D's call date was 1/30/18, and it's still selling for $25.37, $.37 above its call price, while SSW-E's call date is on 2/13/19, and it's selling for $25.72, $.72 above its $25.00 call price.
SSW-G has a 6/16/2021 call date, but, as it's selling for $25.85, its annualized yield to call date is 6.62%, lower than the SSW-H shares: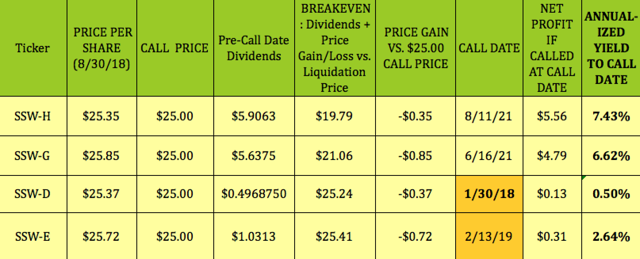 Taxes:
SSW's dividends are reported on a 1099, not a K-1, and are treated as qualified dividend income.
"Under current law, subject to holding period requirements and certain other limitations, dividends received with respect to publicly traded shares by a shareholder that is a U.S. citizen or resident individual, trust or estate (a Non-Corporate U.S. Shareholder), generally will be treated as "qualified dividend income" that is taxable to such Non-Corporate U.S. Shareholder at preferential capital gain tax rates."
A Non-Corporate U.S. Shareholder must hold the Seaspan Shares for more than 60 days during the 121-day period that begins 60 days before the ex-dividend date.
"Qualified dividend income is taxed at a preferential maximum rate of 0%, 15%, or 20%, depending on the income level of the taxpayer. However, if the above listed conditions are not satisfied or if the U.S. shareholder is a U.S. corporation, then that part of the Distribution characterized as dividends should be treated as ordinary income taxable at the regular graduated income tax rates."
However, if the dividend payments exceed SSW's earnings, they are treated as a non-taxable return of capital.
Risks:
Dilution of common shares – As we noted above, we went with the preferred shares, since there will be dilution to the common shares, due to warrants issued earlier in 2018. In mid-February 2018, management announced that Fairfax Financial Holdings Ltd, run by billionaire Prem Watsa, made a US$250 million investment in Seaspan 5.5% interest bearing unsecured debentures, and Class A Common Share purchase warrants.
"There are 38,461,359 warrants, each exercisable into one share of our Class A common stock at an exercise price of $6.50 per share. Each warrant is exercisable within seven years." (Source: SSW site)
On 7/17/18, SSW announced,
"the exercise by certain affiliates of Fairfax Financial Holdings Limited (collectively, "Fairfax") of all the warrants issued to Fairfax on the closing of Fairfax's first debenture investment of $250 million on February 14, 2018, resulting in the acquisition by Fairfax of approximately 38.46 million Class A common shares at an exercise price of $6.50 per share for proceeds of $250 million."

"The exercise of these warrants is part of a definitive agreement with Fairfax, previously announced on May 31, 2018, which provides that Fairfax will immediately exercise all of the warrants that will be issued to Fairfax in January 2019 in connection with the closing of Fairfax's second debenture investment of $250 million pursuant to the subscription agreement dated March 13, 2018. Upon exercise of the warrants in January 2019, Fairfax will acquire another approximately 38.46 million Class A common shares at an exercise price of $6.50 per share, for an aggregate exercise price of $250 million, bringing its total equity investment in Seaspan to $500 million."

"In consideration for the early exercise by Fairfax of these two tranches of warrants, which by their terms would not have expired until 2025 and 2026, respectively, Seaspan issued today to Fairfax additional warrants to acquire 25 million Class A common shares at an exercise price of $8.05 per share, which warrants have a seven year term. In addition, Seaspan and Fairfax have amended the terms of the existing debentures that were issued on February 14, 2018, and the new debentures that will be issued on or about January 15, 2019, to allow Fairfax to call for early redemption of some or all of those debentures on each respective anniversary date of issuance."
As of August 02, 2018, Fairfax owned ~22% of Seaspan's common equity. (Source: SSW site)
With ~146M shares (diluted average), currently outstanding, the additional 38M and 25M common share amounts represent a ~43% potential dilution of SSW's common shares. However, it hasn't kept a lid on the common price, which was $9.31 on 8/30/18. While management lauded the new alliance with Fairfax, that share dilution is something for common shareholders to be aware of.
Trade War Fallout – If the current trade war continues to escalate, it could dampen demand for SSW's vessels, which could pressure earnings. Given the coverage cushion, payout and liquidation seniority that the preferreds have, this is one more reason to favor them over the common shares.
When asked about this issue on the Q2 '18 earnings call, CEO Chen responded,
"The impact from the above numbers so far is relatively limited with the widest threat in terms of the further trade war that is going on. The potential impact, it could be about 5.6% of the global container trade and that is translate into about 59% of the trans-pacific volumes. That being said, as for Seaspan we as we said it earlier, the majority of our fleet is in long-term charter."
Tailwinds:
After undergoing a decline in 2014-2016, and the Hanjin bankruptcy, the shipping container industry began to rebound in 2017. Newbuild orders have tapered off and are at historically low levels, and the percent of idle vessels has continued to fall to much lower levels.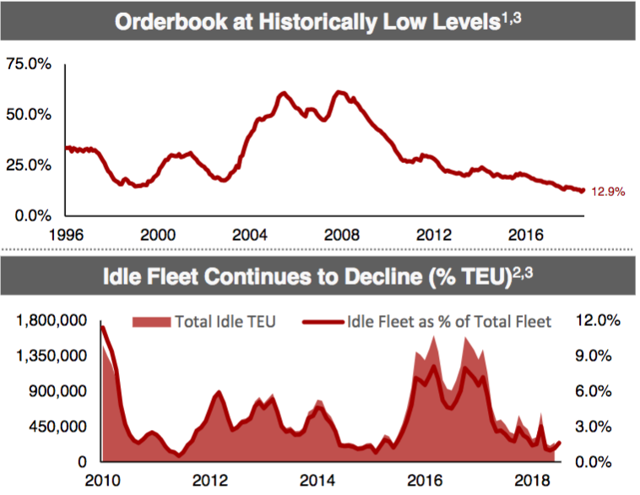 (Source: SSW site)
The shorter supply of available vessels has had a positive impact on charter rates, particularly for the larger 9,000 TEU vessels: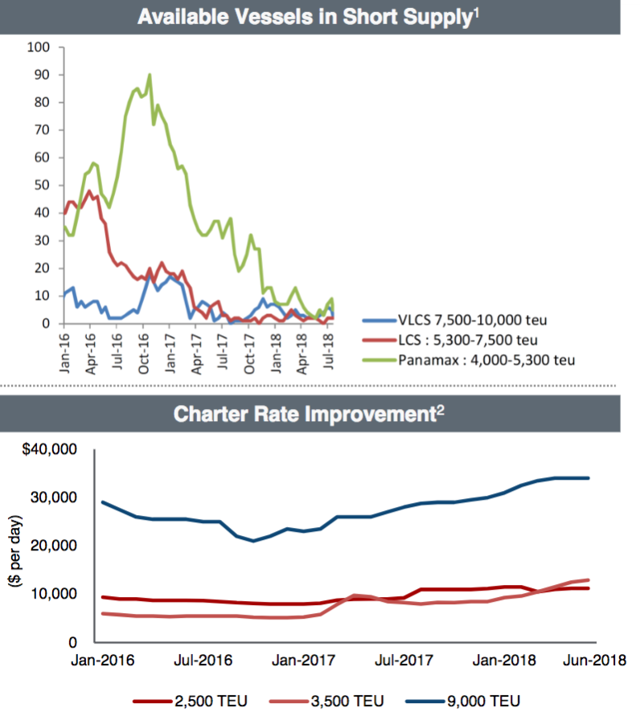 (Source: SSW site)
Looking forward, annual global fleet capacity growth of 3.7% is expected to lag throughput growth of 4.2% in 2019, which suggests on ongoing favorable environment for SSW's fleet: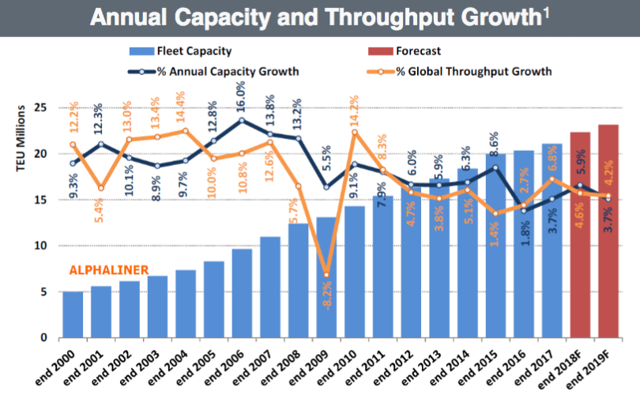 (Source: SSW site)
Financials:
SSW's management has improved the company's ROA, ROE, and Operating Margin over the past 2 quarters, but its trailing debt leverage has increased. Trailing net debt/EBITDA stood at 7.56X as of 6/30/18, but, in light of the big increase in EBITDA from SSW's new vessels, it seems reasonable to look at this leverage with a different measurement – net debt/annualized quarterly EBITDA.
Based upon Q2 '18 EBITDA of $178.62M, SSW's leverage was 5.98X, as of 6/30/18.

Debt:
SSW took on more debt in order to finance the GCI vessels acquisition, which pushed its total borrowings up to $4.54B as of 6/30/18, vs. $3.13B a year earlier.
Management is focused the company's leverage – they made a move to lower its cost of capital, by redeeming its 10.5% Preferred F shares on 7/23/18, after the end of the quarter.
"We are firmly committed to deleveraging and improve moving ourselves towards investment grade." (Source: Q2 '18 earnings call)

(Source: SSW site)
Hedged interest expense jumped by ~70%, year over year, in Q2 '18, but SSW's net cash flows also rose, to $154.3M, giving it a hedged rate interest coverage factor of 2.4X: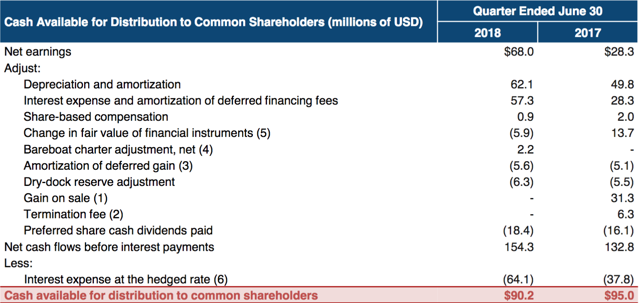 (Source: SSW site)
Options:
We don't currently recommend selling options on SSW's common shares, but you can see over 25 other trades daily in our public Covered Calls Table and over 30 trades in our Cash Secured Puts Table.
Summary:
We continue to rate the SSW-H preferreds a buy, based upon their strong coverage and attractive yields. All tables furnished by HiddenDividendStocksPlus, unless otherwise noted.
Disclaimer: This article was written for informational purposes only, and is not intended as personal investment advice. Please practice due diligence before investing in any investment vehicle mentioned in this article.
CLARIFICATION: We have two investing services. Our legacy service, DoubleDividendStocks, has focused on selling options on dividend stocks since 2009.
Our Marketplace service, Hidden Dividend Stocks Plus, focuses on undercovered, undervalued income vehicles, and special high yield situations.
We scour the US and world markets to find solid income opportunities with dividend yields ranging from 5% to 10%-plus, backed by strong earnings.
These stocks are often small cap, low beta equities that offer stronger price protection vs. market volatility.
We publish exclusive articles each week with investing ideas for the HDS+ site that you won't see anywhere else.
Disclosure: I am/we are long SSW.PH.
I wrote this article myself, and it expresses my own opinions. I am not receiving compensation for it (other than from Seeking Alpha). I have no business relationship with any company whose stock is mentioned in this article.