Uniti Group (UNIT) and its key tenant Windstream Holdings (WIN) both reported earnings yesterday. In the earnings, there is some good and some bad.
On the positive side, UNIT made another acquisition/leaseback with CableSouth and a dark fiber lease to a national MSO. Meanwhile, WIN reported earnings that were better than expected.
On the negative side, UNIT reduced annual guidance due to delays as the TPx closing was pushed back a month, and fiber delays due to a large customer not being ready and permitting delays. While AFFO exceeds the dividend, UNIT continues to go further into debt to fund cap-ex.
Perhaps the most important news of the quarter was the change in tone regarding the potential of deals involving private capital funding. In previous calls, such discussions were suggested as hypotheticals that might occur at some distant point in the future. In this call, it was clear that management is expecting at least one, and possibly more, deals by the end of the year.
Acquisitions
UNIT is acquiring an additional 43,000 strand miles of fiber for $31 million. 34,000 of those strand miles will be leased back to CableSouth for $2.9 million/year with a 2% annual escalator.
Not only is UNIT getting an immediate 9.3% cap rate on the transaction, but it also has exclusive rights to use or lease the additional 9,000 strand miles. Additionally, CableSouth is currently an off-net provider for UNIT, so there will be immediate savings once UNIT owns the network.
This is a rather small deal, but it demonstrates that UNIT has the ability to make profitable acquisitions adjacent to its network. Year over year, the company has grown its network considerably.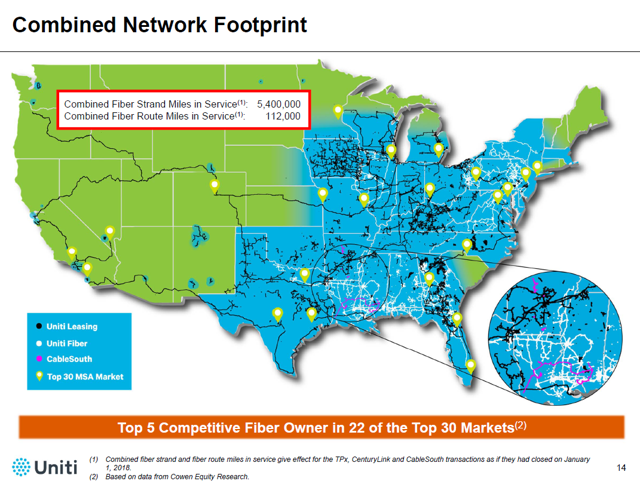 Despite the equity markets being closed to the company, UNIT has managed to increase its fiber network by 600,000 strand miles (12.5%) and 16,000 route miles (16.6%).
The recent lease deal announced with a "National MSO" is a concrete indication that UNIT can lease the excess capacity. The lease has a 20-year term, with an upfront payment of $23 million and $4 million in annual rent. With no cap-ex required and an expected incremental EBITDA margin of 90%, most of the revenue will be reaching the bottom line.
These are the kinds of deals that management has been promising are possible, but have not been seen. If leases like these become a regular occurrence, that is great news for UNIT.
Windstream
WIN's earnings were well received by the market, with shares bouncing up over 25% in one day. The report can best be characterized as things not being nearly as bad as the market feared.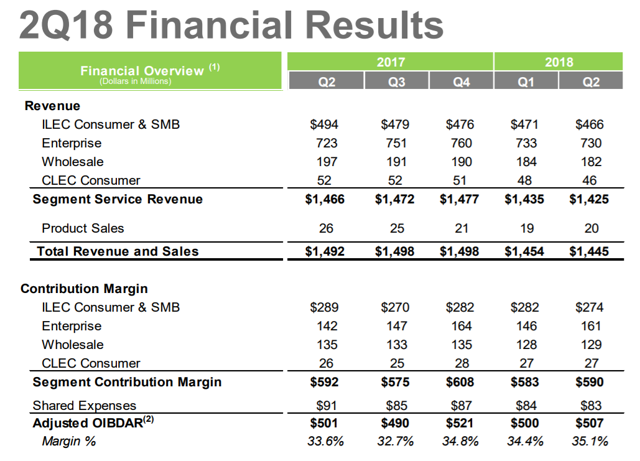 Total revenues continue to decline, but margins continue to improve. Most importantly for UNIT investors, Adjusted OIBDAR (Operating Income Before Depreciation, Amortization, and Rent) remains above $500 million. WIN continues to have 3x rent coverage.
Another concern that has been weighing on UNIT has been the risk of a WIN bankruptcy. I have covered the Windstream vs. U.S. Bank vs. Aurelius lawsuit in numerous articles. With the trial over, the decision is now solely in the hands of the judge and should be coming within a month or so. A worst-case scenario decision would trigger an Event of Default on the bonds owned by Aurelius. A positive result should provide a boost for both WIN and UNIT.
Aside from the Aurelius bonds, WIN has made significant progress in kicking the can down the road.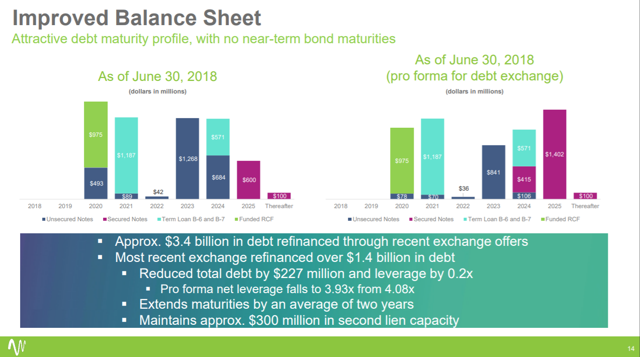 With the most recent debt exchange, WIN's only significant debt maturities before 2023 are its revolver and the B-6 term loan.
In the conference call, Robert Gunderman suggested that there should be news regarding refinancing the revolver soon:
Hey, Davis. This is Bob. We certainly are having those conversations with our credit facility banks. I talk to these partners very often. They've been very supportive. Certain of them obviously have helped us refinance our balance sheet in a pretty significant way over the past year. And so, they're very supportive. And I think we have great support from them going forward on the refinancing. And I'd say we're very focused on making that progress very soon and so look for some additional steps on the refinancing of the credit facility going forward.

In terms of proceeds and pay downs to sort of enable for an extension, I do think that could be part of the discussions. And obviously as Tony foreshadowed earlier, we do have the ability to go out and refinance obviously a portion of that with first lien refinancing indebtedness if that's the path we choose, and I do think there's ready market access at reasonable rates to do that to pay down and act as an incentive to extend if in fact that's needed.
It remains to be seen what price WIN will have to pay, but I am confident that both the revolver and term loan will be refinanced.
While I remain confident in my initial investment thesis that the master lease with UNIT would continue to be paid in the event of a bankruptcy, I am content to avoid having it tested.
Capital
UNIT borrowed a net $195 million on its revolving line of credit, bringing the available capacity down to $275 million. This is due to the acquisitions of the CenturyLink (NYSE:CTL) fiber, the first tranche of the TPx acquisition, and the ongoing deficit caused by cap-ex. That leaves the company with slightly over $350 million in available liquidity.
While that is enough for disclosed acquisitions and current operations, UNIT will need additional access to capital if it is going to achieve its goal of 50% diversification from WIN in 2019.
In the conference calls, UNIT's management has been discussing alternative sources of capital if the share price does not improve. Previously, those discussions were generic, putting out potential ideas that might or might not take place in the future. In the Q2 earnings call, management made several statements, suggesting that some kind of private capital deal will be made sooner rather than later.
In the prepared remarks, Mark Wallace said:
Our discussions with private capital partners has continued to progress favorably and as Kenny mentioned our opportunity set has expanded considerably from these discussions. Our confidence has certainly increased that will be able to successfully partner on one of more investment opportunities in the future.
Then, Kenny Gunderman said:
In closing I want to emphasize that Uniti Group currently has an increasing number of strategic options available to us. The value of our portfolio and the outreach to private capital has led to plethora discussions with industry participants ranging from because it's ranging from OpCo/PropCo transactions joined M&A commercial partnerships and even portfolio repositioning over time.
This brought on a line of questioning from David Barton:
David Barton

And then I guess just my last one was kind of your — this private capital partnership exercise that you kind of brought up last quarter and it sounds like it's been going well, and you feel like you're – sounds like you're close to kind of pulling the trigger on at least one deal, that you said, quote in the near future. Should we be expecting this as kind of like a, something that happened in the coming quarter or the coming or the rest of the year or kind of just off into the future?

Mark Wallace

So I'll say it's certainly not off into the future. I'd say we're in very active discussions. And as I said in my comments, it could be one or more. So I think it, I don't know if it's next quarter or so, but I'd certainly think, I think it's very realistic that we'll be talking about at least 1, if not more than 1 this year. But as Kenny said, there are numerous opportunities here. So it's probably this year as well as next year as well.
And Mr. Gunderman later suggested that some of these deals might be quite large:
So lots of opportunities there and these private capital discussions have also led to focusing on more transformative type transactions where we can move the needle on a big way in one transaction or a couple of transactions. There is a tremendous amount of capital in the industry that's very interested in the types of assets and the infrastructure space that we're focusing on. So all that to say, we still feel good about our opportunity to reach that 50% diversification target and there are some attractively priced assets available and we think the capital is there to help us get there.
Management is pretty limited in what it can say before a deal is inked, but it might as well have been wearing bright neon signs that said "COMING SOON".
By the next earnings call, there will likely be some kind of significant deal involving private capital. This will be a big positive for common shareholders in that any deal will help diversify from WIN and improve revenues.
On the other hand, private capital does not come for free. What will the price be, and will it be worth it? Without knowing the details, the impact on the common shareholder is impossible to predict. Investors will have to trust management to make deals that are beneficial for the long-term.
Conclusion
By the numbers, Q2 was a ho-hum quarter with flat revenues and business continuing as usual. The guidance cut is disappointing but has more to do with timing than any loss of revenue.
WIN had a better-than-expected quarter with OIBDAR slightly improving, and it appears that it has a handle on its debt for the immediate future.
Below the headlines, there are some significant things happening.
The signing of a major lease for dark fiber that will not require any additional cap-ex is an important proof of concept. UNIT has acquired a significant amount of underutilized fiber, betting that it can lease it up.
The real news came in the conference call as management made it clear that it is in advanced negotiations for acquisitions involving private capital and suggesting that these acquisitions could be large enough to significantly move the needle.
These types of deals could fundamentally change the company, and until the details are known, it is impossible to determine if the result will be positive or negative for common shareholders.
Disclosure: I am/we are long UNIT.
I wrote this article myself, and it expresses my own opinions. I am not receiving compensation for it (other than from Seeking Alpha). I have no business relationship with any company whose stock is mentioned in this article.