As you may recall, I recently wrote on Omega Healthcare Investors (OHI) and Medical Properties Trust (MPW). While these two healthcare REITs are completely different in terms of their underlying real estate, they share the same operator profile.
You see, both of these REITs generate revenue from the government, via Medicare and Medicaid, and this exposes their operators to higher risk.
In addition, skilled nursing properties and acute care hospitals are generally located in secondary markets where cap rates are much higher (than medical office, life science, or senior housing properties). This makes the business models for these two REITs higher risk and of course that's why the dividend yields are higher.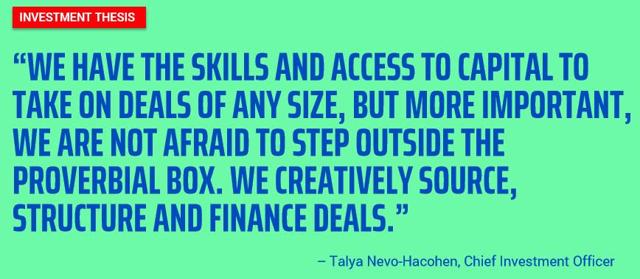 In order to close the circle, I thought it would be appropriate to take a closer look at Sabra Health Care REIT (SBRA). Like OHI and MPW, SBRA invests in the higher-yielding properties that, in turn, generate higher dividends.
We recently upgraded MPW from a HOLD to a BUY and we are maintaining a BUY on OHI (after a 25% run-up YTD). At the end of this article, I will provide you with our updated SBRA recommendation, and for now, let's determine what SBRA's CIO means when he says, "we are not afraid to step outside the proverbial box".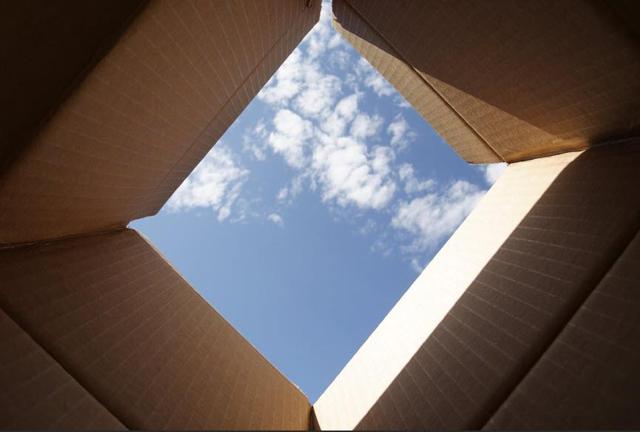 SABRA: A Top Performer
You may recall, I upgraded shares in SBRA from a HOLD to a BUY in January, and that has proven to be a well-timed recommendation.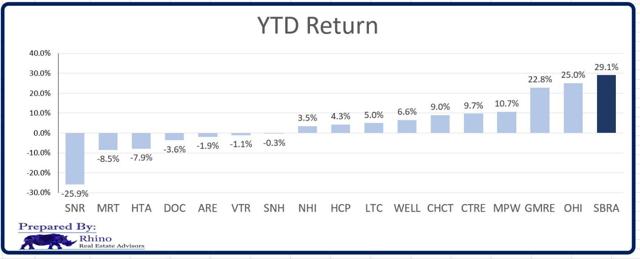 No need for a victory lap, the purpose for this article is to determine whether or not to continue with SBRA. It's been over two quarters since we published an article on SBRA, and there's a lot of ground to cover…
First off, remember that in August 2017, SBRA completed the merger with Care Capital Properties (formerly CCP) in a 100% all-stock combination. When CCP merged with SBRA, the company planned to reduce its concentration to Genesis (GEN) – from 33% of NOI to 11% – and Holiday – from 16% to 6%.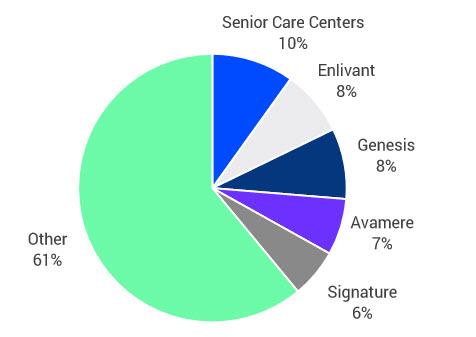 As of Q2-18, SBRA had around 8% exposure to GEN and 6% exposure with Signature Health. However, in a recent investor deck, SBRA revealed it will have 3.6% exposure (based on rent) after selling 19 facilities (that generate $10.0 million in rent).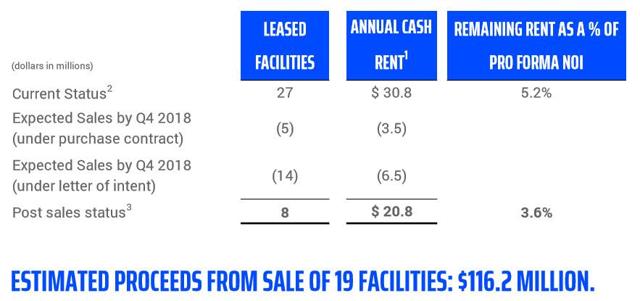 Also, the Signature Health restructuring is going well; SBRA revealed it provided a term loan of up to $12M at a 7% interest rate for a period of 7 years to provide Signature with working capital. Also, SBRA combined existing master leases (with Signature) into a single master lease with an 11-year term commencing on May 7, 2018 with three 5-year extension options.
The cash rent of $35M (net of estimated $15M annual rent deferral) is anticipated to result in normalized EBITDAR coverage of 1.30x. Annual CPI-based rent escalators between 2.50% and 3.50%. Also, SBRA has targeted dispositions of up to four non-core Signature assets, resulting in an estimated rent credit of $1.9M based on projected proceeds of $22M.
Keep in mind that SBRA is not so much of a "pure play" skilled nursing REIT like OHI, the company has 66% exposure (to skilled nursing) vs. 83% skilled nursing exposure for OHI and 86% exposure for CareTrust (CTRE).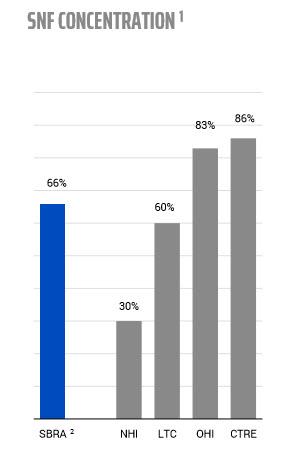 Here's a snapshot of SBRA's portfolio. As you can see, the company has 24% invested in senior housing, 8% invested in specialty hospitals, and 2% in other.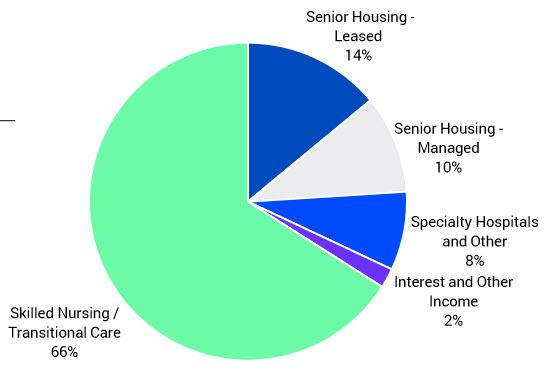 Accordingly, SBRA has plans to grow its private-pay exposure through acquisitions and portfolio management. The company's strong proprietary development pipeline provides future deal flow for primarily purpose-built, senior housing facilities. Here's a snapshot of SBRA's diversification – based upon the top 5 operators: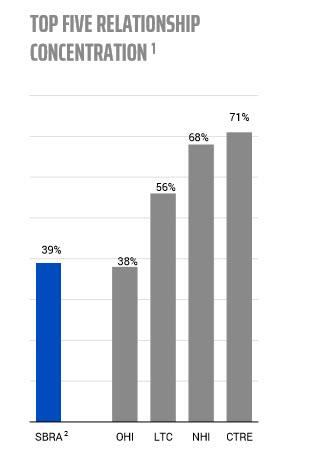 The Balance Sheet
SBRA is in compliance with all of its debt covenants and continues to maintain a strong balance sheet with the following pro forma credit metrics: Net debt to adjusted EBITDA of 5.53x, net debt to adjusted EBITDA (including unconsolidated joint ventures debt) of 5.99x, interest coverage of 4.14x, fixed charge coverage of 3.88x, total debt to asset value 50%, secured debt to asset value 8%, and unencumbered asset value to unsecured debt of 216%.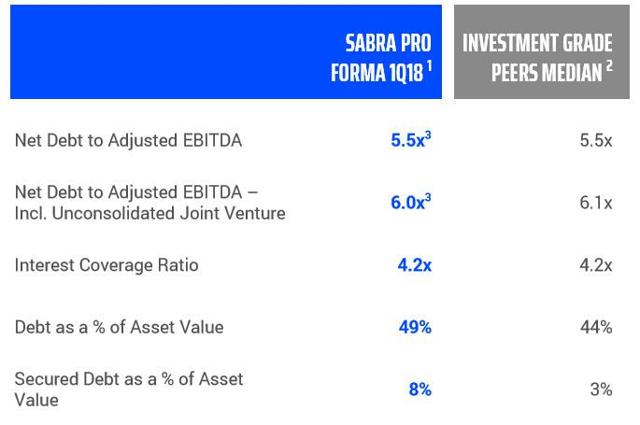 On June 1, SBRA redeemed all 5.75 million shares of its Series A Preferred stock price at a redemption price of $25 per share plus accrued in unpaid dividends for an aggregate payment of $146.3 million. As a result of redemption, the company incurred a charge of $5.5 million coming to the write-off of the original issuance costs of the Series A Preferred stock.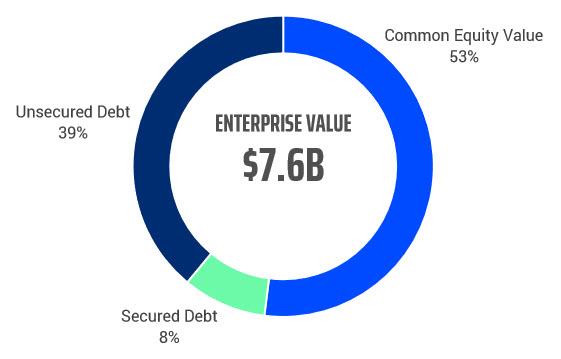 As a result of the CCP merger, SBRA's diversified tenant base and scale positioned the company to achieve investment grade credit ratings. SBRA now sports an investment-grade rating from Fitch after the agency boosted to BBB- from BB+. On August 8th, SBRA announced that its Board of Directors declared a quarterly cash dividend of $0.45 per share of common stock.

The Latest Earnings Results
In Q2-18, SBRA reported revenues and NOI of $166.3 million and $162.7 million, respectively, compared to $64.7 million and $60.3 million. These increases are due predominately to revenues and NOI generated from the properties acquired in the CCP Merger and the Enlivant transactions. SBRA's FFO for the quarter was $104.5 million, and on a normalized basis was $109.7 million, or $0.61 per share.
AFFO, which excludes from FFO merger and acquisition costs and certain non-cash revenues and expenses, was $98 million, and on a normalized basis attributes including similar items as normalized FFO was $102.8 million or $0.57 per share. This compares to normalized AFFO of $35.2 million, or $0.53 per share in Q2-17, a per share increase of 7.5%.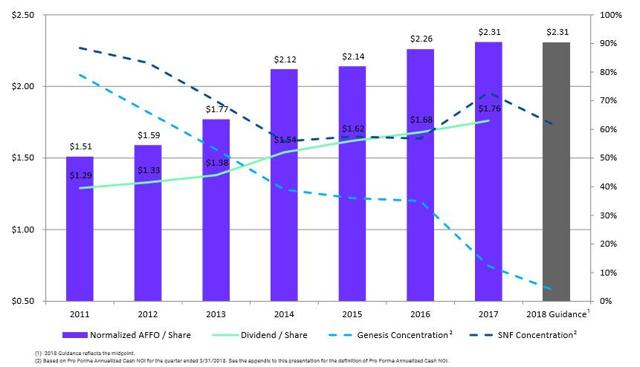 As John Kim, analyst at BMO Capital Markets, explains, "through a series of controversial acquisitions, and subsequent lease restructuring with Genesis, SBRA has significantly improved its risk profile, in our view, as it reduced tenant concentration of its top two tenants to 11% from 50%, leading to credit ratings upgrades. The expected sale of its portfolio leased to Senior Care (10% of NOI; 1.02x rent coverage) would further enhance its risk profile, in our view."
SBRA has been one of the most active net acquirers in the healthcare REIT sector in 2017-18, and Kim "believes [SBRA] is poised to grow externally in 2019, ahead of some of its peers". KIM estimates SBRA's FFO per share growth will accelerate moderately to 3.2% CAGR in 2018-20, from 2.5% from 2015-18. However, he estimates "SBRA has recently disposed of assets at a 24% cash loss, thus acquisitions may be scrutinized".
Stepping Outside The Sabra Box
As referenced above, SBRA has been a top-performer year-to-date, and thankfully, we got outside of the box early on this trade. However. Let's take a closer look at valuation today, starting with the dividend yield: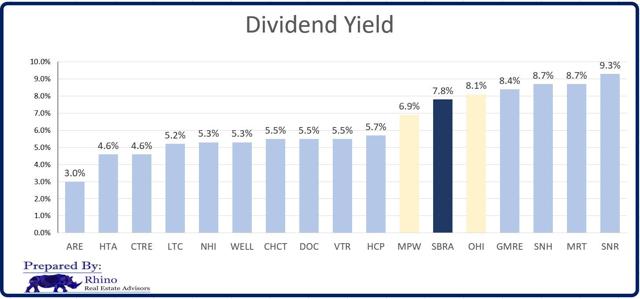 As you see, SBRA is yielding 7.8%, sandwiched between MPW (6.9%) and OHI (8.1%). Now let's examine the payout ratio (using FFO/share data):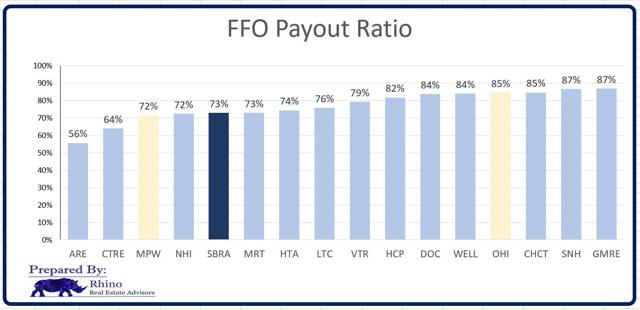 Again, SBRA's payout ratio is in better shape than OHI, and SBRA has continued its dividend growth trajectory, as viewed below: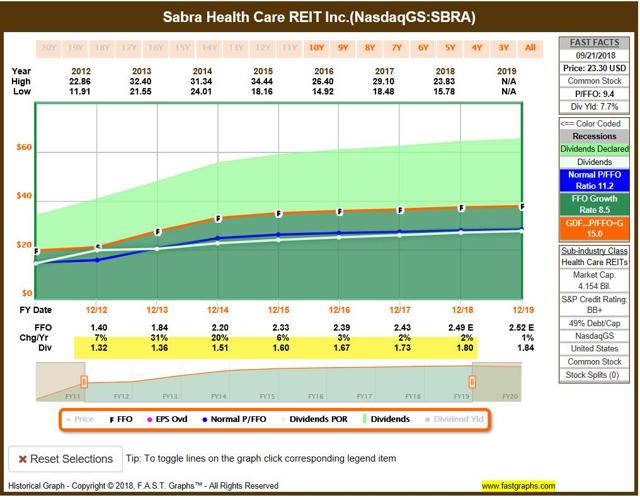 Now, let's examine SBRA's P/FFO multiple below: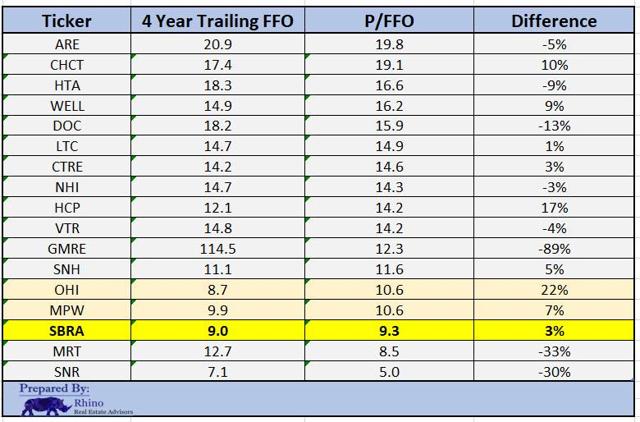 As you can see, SBRA is trading at 9.3x, lower than MPW (10.6x) and OHI (10.6x). Also, SBRA is trading at 3% above the company's trailing 4-year P/FFO average.
Given the continued volatility in skilled nursing, we believe there's limited opportunity for price expansion. Both skilled nursing and senior housing occupancies are low, and we consider OHI a better pick because of the company's "pure play" management structure. However, there's no question that SBRA is a stronger company today:

And obviously, Mr. Market acknowledges SBRA's management team for steering the vessel to safety…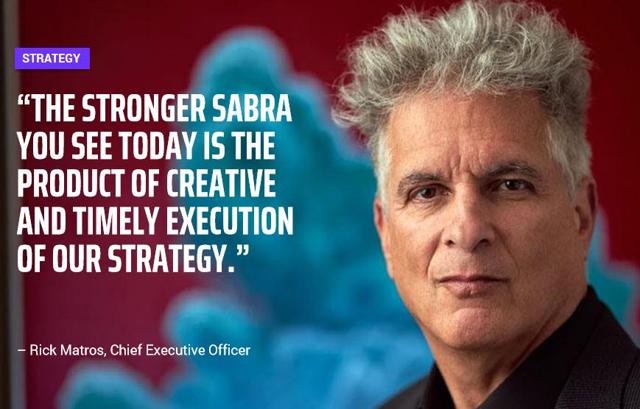 In conclusion: We are maintaining a BUY on SABRA as we consider the price performance to be an indicator that the management team is executing on its promise – "the product of creative and timely execution of strategy". Sometimes investors must also "step outside the box" and we are happy that we did so with Sabra Health Care REIT.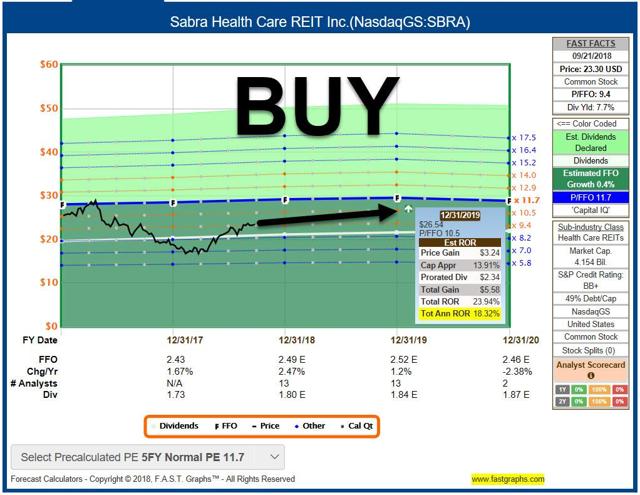 Note: Brad Thomas is a Wall Street writer, and that means he is not always right with his predictions or recommendations. That also applies to his grammar. Please excuse any typos, and be assured that he will do his best to correct any errors, if they are overlooked.
Finally, this article is free, and the sole purpose for writing it is to assist with research, while also providing a forum for second-level thinking. If you have not followed him, please take five seconds and click his name above (top of the page).
Sources: FAST Graphs and SBRA Investor Presentation.
Brad Thomas is one of the most read authors on Seeking Alpha (based on page-views), and over the years, he has developed a trusted brand in the REIT sector. His articles generate significant traffic (around 500,000 views monthly) and he has thousands of satisfied customers who rely on his expertise.
Marketplace subscribers have access to a growing list of services, including weekly property sector updates and weekly Buy/Strong Buy/Hold/Sell (and soon Strong Sell) recommendations. Also, we are now providing daily early morning REIT recaps including breaking news across the entire REIT universe.
For new subscribers we will include a FREE autographed copy of The Intelligent REIT Investor. Act Now!
Disclosure: I am/we are long ACC, AVB, BHR, BPY, BRX, BXMT, CCI, CIO, CLDT, CONE, CORR, CTRE, CXP, CUBE, DEA, DLR, DOC, EPR, EQIX, ESS, EXR, FRT, GDS, GEO, GMRE, GPT, HASI, HT, HTA, INN, IRET, IRM, JCAP, KIM, KREF, KRG, LADR, LAND, LMRK, LTC, MNR, MPW, NNN, NXRT, O, OFC, OHI, OUT, PEB, PEI, PK, PSB, PTTTS, QTS, REG, RHP, RLJ, ROIC, SBRA, SKT, SPG, SRC, STAG, STOR, TCO, TRTX, UBA, UMH, UNIT, VER, VICI, VNO, VNQ, VTR, WPC.
I wrote this article myself, and it expresses my own opinions. I am not receiving compensation for it (other than from Seeking Alpha). I have no business relationship with any company whose stock is mentioned in this article.