My high-conviction investment thesis in Royal Dutch Shell (NYSE:RDS.A) (NYSE:RDS.B) is based on three success pillars. The first pillar is growth in net income, accompanied by a significant rise in free cash flow. The second pillar is shareholder friendliness, or how well Shell treats its shareholders. The third pillar, as in with every investment, is the current compelling valuation of shares.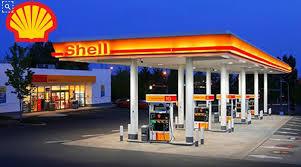 Net Income – Numbers Don't Lie
In its most recent quarter, Shell generated net income in the amount of $4.7 billion, an increase of 30 percent over the same quarter last year. The company's growth is well balanced between its different divisions. The upstream division (oil exploration) generated adjusted net income of $1.45 billion compared to a meager $339 million during the second quarter of 2017.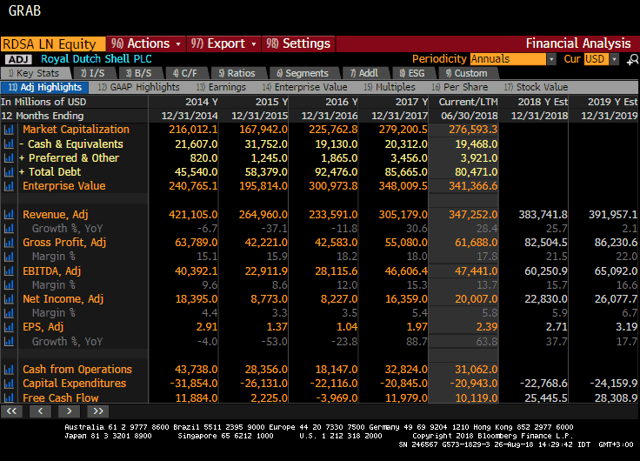 The company's integrated gas division (gas exploration and LNG) recorded $2.3 billion in net income, almost double the net income recorded during same quarter last year.
But Shell doesn't only grow its net income. It also generates free cash flow at a rapid clip. The company generated free cash flow of $9.5 billion during the most recent quarter. If you look at the first six months of 2018, you'll see that Shell has generated a total of $18.9 billion in net adjusted income. This marked the most profitable six months in the company's history.
Strategic Plan – Key To Success
Shell hasn't always been so focused on profits. In the not-so-distant past, growth in revenues used to reign supreme. Shell, like other oil majors, used to chase whatever oil assets it could get its hands on, regardless of the future return on investment. Only naturally, profits were in constant decline despite a surge in revenues.
But Shell has been reformed. As a result of the brutal decline in the oil price compared to its price back in 2014, the company's management has declared a special strategic shift. From that point on, the focus was on profits, not on revenues. Period. As a result of this transformation, Shell has been selling idle oil assets, cutting its headcount substantially, and reducing its traditionally high leverage.
The transformation is apparent in the numbers. During the first six months of 2018, the company has sold marginal oil assets for a total consideration of $3.8 billion. The emphasis on efficiency is also apparent from the 8.1 percent return on investment compared to only 4 percent in the first half of 2017. Some of that cash has been responsibly funneled towards a reduction in debt. Gearing level has been reduced to 23.6 percent compared to 25.8 percent in the second quarter of 2017 and north of 30 percent two years back.
Shareholder Friendly
Shell doesn't have a stellar record of being a shareholder-friendly company. Despite its massive cash flow from operations, it has neglected to increase its dividend payouts accordingly, it has consistently diluted shareholders by issuing shares in the form of stock dividends, and has never in its history repurchased its own shares to unlock value.
But all this has changed. As part of the company's strategic shift, management vowed to put shareholders in the front seat. In its most recent quarterly report, Shell disclosed that it had paid a total of $3.9 billion in dividends to its shareholders during the last quarter. Even more importantly, management had announced that it would launch an impressive buyback program in the amount of at least $25 billion to be implemented in the period between 2018 and 2020. This buyback program is subject to further progress with debt reduction and oil price conditions, and is the first buyback program in the history of Shell. Also worth noting is the fact that it has ceased to pay dividends in stock. Since last December, all dividends have been in cash, and cash only. For me, this was a great indication that the company has finally turned around.
With buybacks and dividends on the rise, I believe that shareholders are expected to receive roughly $25 billion back from Shell, each and every year, between now and the end of 2020. Now, that's a staggering sum.
"T" or "S" – Which One Would You Choose?
Most dividend seeking investors sing the praises of AT&T (T). I don't blame them. AT&T has a stellar record of paying dividends back to its shareholders, in good and bad times alike. But I believe that currently, Shell's dividend is highly superior to that of AT&T's for two reasons.
The first reason is the industry. The telecom industry has experienced a massive wave of consolidation, and AT&T is no different. The company has recently swallowed Time Warner in an $85 billion deal. Despite the high-quality assets of Time Warner, every major buyout takes its toll. I am confident that AT&T will not pursue any share repurchase program in the coming years. In addition, it will keep its dividend increases to the minimum. In contrast, Shell will pursue aggressive buyback programs, which will reduce the share count, and will increase its dividend by at least 7 percent per annum.
The second reason is valuation. Despite the recent uptick in oil prices, oil exploration companies are still selling on the cheap. Specifically, Shell is trading at a lowly 10 times next year's earnings. This represents one of the lowest valuations in the company's history.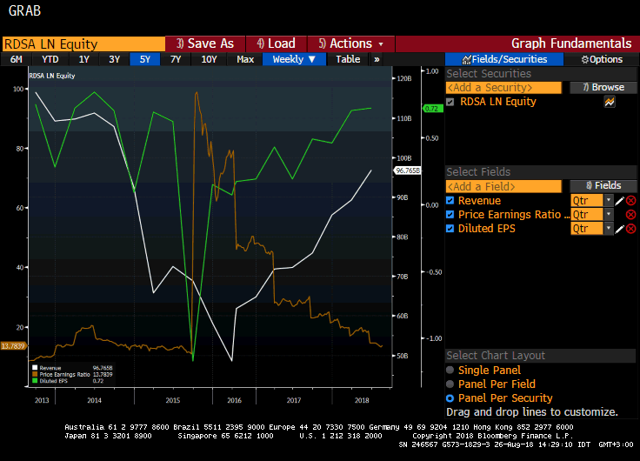 Especially notable is the contrast between the gradual rise in revenues and profits per share (white and green line, respectively) versus the sharp decline in valuation (brown line). This is precisely the setup that I like the most.
You see, investing is all about contemplating the present and projecting it into the future. That's why I believe that Shell's 5.5 percent dividend yield is highly superior to AT&T's 6 percent dividend yield.
My Final Takeaway
Shell is a leading company in the oil exploration sector. It gushes cash flow, grows net income at a rapid pace, and treats its shareholders very well. I believe that at current valuation, and considering future prospects, its dividends are by far superior to that of AT&T.
Author's note: If you enjoyed this article and would like to read more from me, you can hit the "Follow" button to get informed about new articles. I am always glad to see new followers!
Disclosure: I am/we are long RDS.B.
I wrote this article myself, and it expresses my own opinions. I am not receiving compensation for it (other than from Seeking Alpha). I have no business relationship with any company whose stock is mentioned in this article.