Last week I noticed a Realty Income (NYSE:O) press release announcing that they were redeeming $550 million of 6.75% notes that were not due until August 15, 2019 and that they were going to pay a substantial amount of unearned interest to the note holders:
Realty Income To Redeem All Outstanding 6.75% Notes Due 2019

Nov 15, 2017

SAN DIEGO, Nov. 15, 2017 /PRNewswire/ — Realty Income Corporation (Realty Income, NYSE: O), The Monthly Dividend Company®, today announced that it intends to redeem all $550 million in principal amount of its outstanding 6.75% notes due August 15, 2019 (CUSIP No. 756109AK0) (the "Notes"). The redemption date for the Notes will be December 15, 2017 (the "Redemption Date").

The estimated redemption price for the Notes will be $1,101.62 per $1,000 principal amount of the Notes, representing 100% of the principal amount of the Notes being redeemed, accrued and unpaid interest thereon to the Redemption Date and a "make-whole" amount calculated in accordance with the indenture governing the Notes. [More…]
I wondered why Realty Income would redeem these notes at this time and pay a significant amount of interest not due until 2019? One thought I had was that it would make sense if they were doing it as part of a strategy to earn a credit rating upgrade.
Well on November 21, 2017, Moody's upgraded Realty Income:
Rating Action: Moody's upgrades Realty Income to A3; stable outlook

Global Credit Research – 21 Nov 2017

New York, November 21, 2017 — Moody's Investors Service ("Moody's") upgraded the senior unsecured rating of Realty Income Corporation [NYSE: O] to A3 from Baa1. The outlook is stable.

The upgrade to A3 reflects the REIT's long track record in maintaining conservative balance sheet metrics, exceptionally strong ability to obtain long-term financing at low costs, and a geographically diverse net-lease retail portfolio with steady operating performance throughout real estate cycles. The A3 rating also recognizes the depth and experience of Realty Income's management team. [more…]
This is very good holiday news for investors in Realty Income. The new higher investment grade rating will enable the company to lower its cost of capital, which will increase profit margins and support increased distributions to shareholders going forward.
About The Company
Realty Income was "Founded in 1969 to provide investors with monthly dividends that increase over time."
The company acquires commercial real estate leased to selected high quality tenants on long-term lease agreements, typically 10–20 years, with built in rent escalation terms. The leases are structured so that the tenant is responsible for the operating expense for the property (taxes, insurance, and maintenance), an arrangement called Triple-net. The lease payments received each month are used to support predictable monthly dividend payments to our investors.
The stock was listed on the New York Stock Exchange for public trading in 1994 with the trading symbol "O." The company is a member of the S&P 500 index and the S&P High Yield Dividend Aristocrats index. As of November 22, 2017, the company's stock closed at $58.56 and the yield is 4.5% paid monthly. The company headquarters is located in San Diego, California.
Portfolio
Realty Income seeks tenants with proven success operating businesses that provide non-discretionary goods and services at low price points. The company now owns over 5000 free standing commercial properties in prime locations with good visibility, evenly distributed among 49 states roughly in proportion to population, and leased to tenants engaged in Retail 79.9%, Industrial 12.8%, Office 5.1%, and Agriculture 2.2%.
The average remaining lease term is about ten years with staggered lease expirations. Current occupancy is 98.3%; the lowest occupancy the company experienced was 96.6% during 2010.
Most tenants operate commercial retail businesses that provide non-discretionary goods and services at low price points. 46% of revenue comes from tenants with investment grade credit ratings.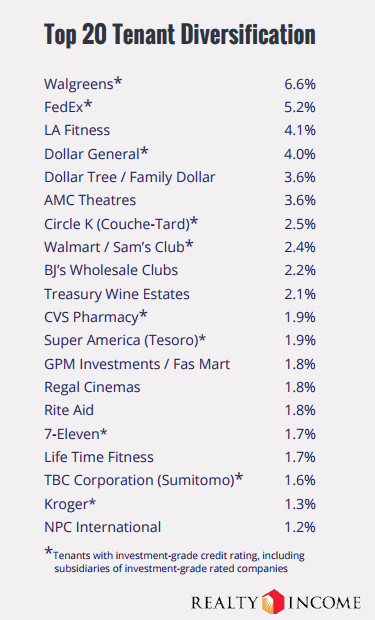 Company management is well aware of the risks posed to the retailer by expanding e-commerce development and has responded by seeking tenants with limited risk. 20% of total portfolio rent revenue now comes from tenants with no exposure to e-commerce risk. 77% of rent comes from retail tenants with at least one of four risk-controlling characteristics: service industry, non-discretionary product, low price point, or an investment grade rating.
The company has been an extremely reliable investment since going public in 1994, outperforming almost every alternative public investment opportunity.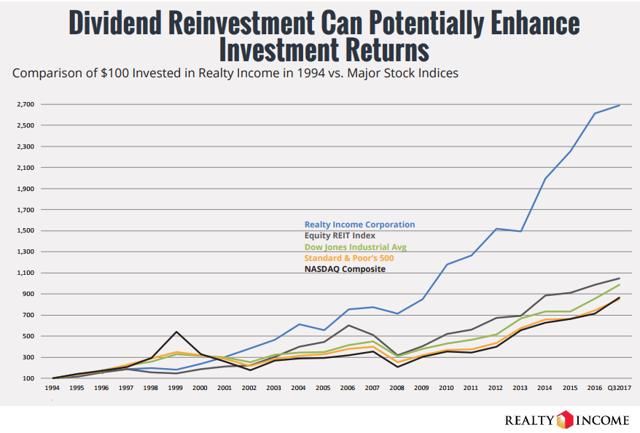 The portfolio of high-quality tenants with long-term leases with built-in rent escalators allowed the company to raise its dividend every year right through the great recession. What a great place to have your retirement savings during times of economic uncertainty and stress.
Quality Of Management
When I review the list of the top 20 tenants above, I see a few businesses that give me a little concern. I think Walgreens (NASDAQ:WBA) may be challenged as more prescriptions are filled remotely and delivered to the customer through the mail, which may reduce traffic in the stores. I am not 100% confident about the viability of the cinema business as it now exists. But if I see these risk factors, I have 100% confidence that Realty Income management have already considered them and have a plan to monitor and manage these risks just as effectively as they have managed tenant risks over the past 48 years.
Valuation
I am not a trader or a market timer. I only recommend investors consider this company as a long-term investment.
Realty Income stock closed at $56.35 on November 22, 2017. Based on the most recent monthly dividend of $0.212, the annualized yield is 4.52%. The price earnings ratio is 48.20 and the price/FFO ratio is 18.3 based on the third quarter FFO per share annualized. Realty Income is not cheap at this price but it is selling below its highest historical valuation.
I expect that as news of the credit upgrade is considered by the investment community, it will have a significantly positive impact on the value of Realty Income stock.
Happy Holidays!
Disclosure: I am/we are long O.
I wrote this article myself, and it expresses my own opinions. I am not receiving compensation for it (other than from Seeking Alpha). I have no business relationship with any company whose stock is mentioned in this article.