I've long contended that when it comes to the trade war, Chinese authorities aren't as concerned about the domestic stock market as the U.S. administration would have the American public believe.
On multiple occasions over the past several months, President Trump has referenced the disparity between the performance of U.S. stocks (SPY) and Chinese equities as evidence that America is prevailing in the ongoing trade dispute. For instance, at a rally in Ohio early last month, Trump said this:
Sadly, because I don't like this, the Chinese market is down 27% in the last three or four months.
Since then, he's repeated that (or some derivation thereof) on Twitter. Last Thursday, for example, he said this:
We are under no pressure to make a deal with China, they are under pressure to make a deal with us. Our markets are surging, theirs are collapsing.
That is probably not the correct way to think about things and indeed, it's not consistent with the way the administration itself has generally defined "winning" and "losing" on trade.
Economists will tell you that nobody "wins" in a trade war and they'll also tell you that thinking about deficits and surpluses in terms of "winning" and "losing" is to misunderstand deficits and surpluses. But let's give the President the benefit of the doubt and assume there's some validity to the notion that "winning" and "losing" can be defined in terms of trade balances. If that's the case, the U.S. isn't "winning". In fact, China logged the largest surplus on record with the U.S. in August: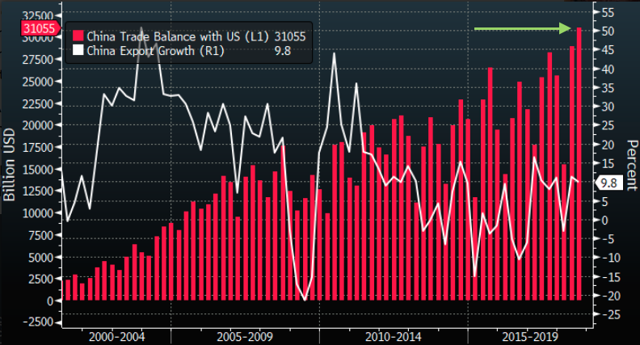 (Bloomberg)
On top of that, the rapid depreciation of the Chinese yuan (CYB) that started in late June after the PBoC decided not to raise rates in open market operations following the Fed hike (on the way to enacting a RRR cut ten days later), served to shield the economy from the effects of the tariffs. Specifically, the depreciation from late June through early August completely offset the effects of the first round of 301 investigation-related tariffs (duties on $50 billion in goods implemented in two steps on July 6 and August 23) and what was, at the time, still a theoretical second round of IP theft-related tariffs on $200 billion in Chinese exports to the U.S. (those tariffs are now a reality).
Beijing effectively let the Fed do all of the work when it came to cushioning the tariff blow. As upbeat U.S. economic data continued to force Jerome Powell to stick with a hawkish lean, the PBoC implemented a series of stealth easing measures, thereby countenancing a widening policy divergence between the U.S. and China, which in turn pressured the yuan weaker and cushioned the economy. Here's my annotated yuan chart again, which shows the depreciation, along with the four steps China took in August to put the brakes on the yuan's slide once they felt it had gone too far, too fast.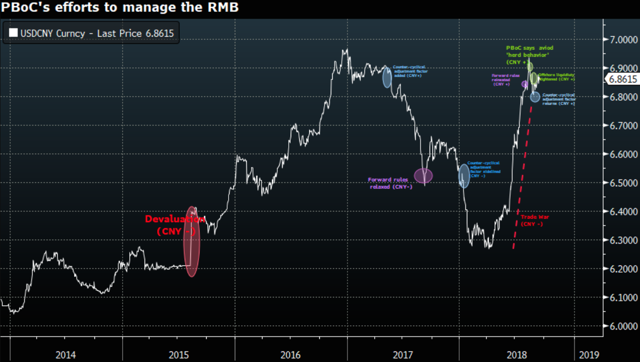 (Bloomberg)
Notably, China managed to let the yuan depreciate without stoking capital flight, or at least based on FX reserves, which remained steady over the course of the depreciation.

(Bloomberg)
What you should get from the above is that Beijing's first priority was to shield the economy by getting out ahead of the tariff impact with currency depreciation. The stock market could wait.
The reason the stock market could wait is primarily down to two factors (or at least that's how I see it).
First, Xi doesn't have the same political calculus as Trump. Here's how BofAML's Ethan Harris put it last month:
After consolidating power at the 13th National Congress, Xi does not need to worry about midterms or his own re-election. Hence he likely does not worry about the stock market as much as a US president.
Second, Beijing can theoretically stabilize the stock market any time it wants, because in China, there is a literal "plunge protection team" (no conspiracy theories needed).
China established the so-called "National Team" in 2015 when a dramatic unwind in a half-dozen backdoor margin lending channels burst the country's equity bubble, sending onshore stocks careening some 40% lower from early June 2015 through late September. Here's Deutsche Bank with a brief history for the uninitiated:
The National Team operates through 21 known entities: China Securities Finance Corp., Central Huijin Investment and Central Huijin Asset Management (wholly-owned by Central Huijin Investment), five mutual funds set by the CSF with Rmb200bn total initial investment, ten managed accounts entrusted with asset management companies and three wholly-owned subsidiaries of the SAFE.

Relying on funding from equity injections, interbank borrowing and central bank support, the National Team mobilized some Rmb1.5tr to purchase stocks and ETFs in a bid to stabilize the A-share market after a rapid and deep correction in 2015.
Again, this is a real thing. It's not some old wives' tale and it's not an urban legend. As of this summer, the National Team held more than 1,100 stocks worth more than CNY1.2 trillion. As Deutsche Bank goes on to write in the note cited above, that's good for 5.5% of the A-share market's free float: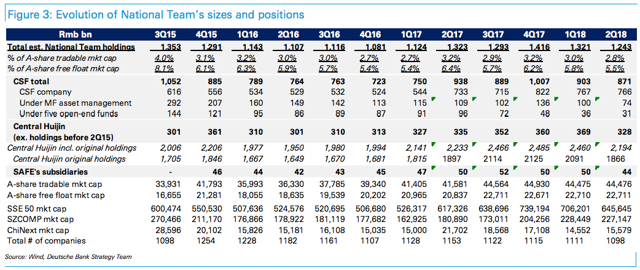 (Deutsche Bank)
After the collapse in the summer of 2015, the Shanghai Composite wouldn't ultimately bottom until early the following year and over the course of the last two months, traders have observed state buying when the index has bumped up against those 2016 lows. For instance, on August 20, local media reports suggested major Chinese insurance companies spent billions of yuan buying up shares in the onshore market. In the three sessions prior to August 20, an unnamed large Chinese insurer was said to have bought billions in A-shares whenever the SCHOMP fell below 2,700.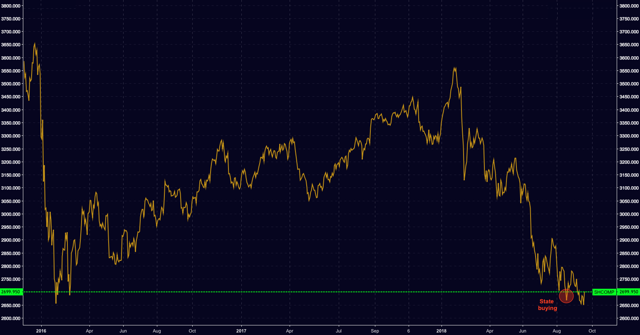 (Heisenberg)
On Monday, the index broke decisively through those lows, and considering everyone knew an announcement from the Trump administration on the next round of tariffs was imminent, it wasn't difficult to predict that on Tuesday, should A-shares sputter again, the afternoon session would likely see a rally in the onshore market, tipping state buying. Sure enough, that appears to have played out. Here's a Tuesday chart of the SHCOMP: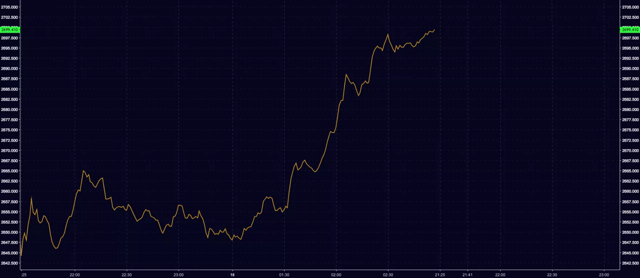 (Heisenberg)
Needless to say, it's unlikely that retail and other discretionary investors just decided, out of the blue, to start buying equities in the afternoon on a day when the U.S. made things official with regard to the next round of tariffs. In other words, what you see there was probably the vaunted National Team.
Well, according to Deutsche Bank, Beijing is likely to step up efforts to support the domestic stock market from here. The bank says that so far in 2018, the National Team has held its fire due to a perceived lack of contagion risk and a desire to see how the trade war developed before deploying resources.
On the former point, Deutsche notes that this year's losses in Chinese stocks have been far less alarming on multiple fronts (compared to 2015) including fewer stocks trading limit-down. Perhaps more importantly, margin financing is optically lower than the egregious leverage employed three years ago (note above how I cited the unwind in backdoor margin lending channels as a cause of the crash in 2015).
So why now? That is, what's the rationale for deploying state resources and rolling out the literal plunge protection this month as opposed to say, waiting until 2019 when the tariff rate on the additional $200 billion in Chinese exports announced on Monday will more than double to 25%, perhaps weighing on sentiment further?
For Deutsche Bank, there are four reasons to think this is an opportune time for state-backed vehicles to step in. First (and as mentioned above), the SHCOMP is bumping up against the 2016 lows, which are seen as key psychological levels. Second, valuations are compelling. Third, the first two rounds of 301 investigation-related tariffs are in the books, and there are convincing signs that the deceleration in the domestic economy may be enduring. Fourth, interbank rates are low, which means state vehicles can obtain cheap funding for equity purchases. Here are two charts which illustrate points two and four: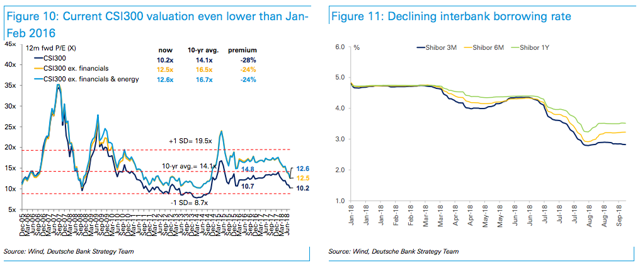 (Deutsche Bank)
The full note contains a ton more color, but the question readers here are undoubtedly asking at this point is whether this is tradable for average investors.
The answer is "probably" – but indirectly. Access to the A-share market, while expanding, is limited and it's unlikely that U.S. retail investors are going to be interested in playing in that sphere. But for regular folks, here's the key line from Deutsche's note:
If the A-share market stabilizes and recovers on support from the National Team, we are likely to see a boost to sentiment and a positive spillover effect on the similarly fragile offshore H-share market.
The read-through there is that this is potentially tradable through H-shares via the iShares China Large-Cap ETF (FXI) and the iShares MSCI China ETF (MCHI). I don't want to get too specific there and as usual, I leave it to readers to evaluate whether a given idea is appropriate for their circumstances, market acumen and risk tolerance. But what I can point you to is the following set of charts from Deutsche which show you what the National Team holds:

(Deutsche Bank)
If you compare those holdings to the H-share holdings in MCHI and FXI you'll see some overlap, but do note that this comes with all manner of caveats, including (but by no means limited to) the possibility that going forward, the National Team may decide to buy things they don't already own a lot of.
More broadly though, it's probably a reasonably safe assumption that efforts on Beijing's part to stabilize the onshore market would generally be positive for Hong Kong shares on the whole.
Panning out even further (and coming full circle), there are reasons to believe that having exhausted the capacity of the yuan to shoulder the burden in terms of shielding the economy from the trade war, and with domestic shares mired in a bear market and breaching the 2016 lows, Beijing is prepared to move in and arrest the slide in domestic equities, perhaps as part of a broader effort to ensure that sentiment in China doesn't sour amid what's now likely to morph into a protracted war of attrition on the trade front.
Disclosure: I/we have no positions in any stocks mentioned, and no plans to initiate any positions within the next 72 hours.
I wrote this article myself, and it expresses my own opinions. I am not receiving compensation for it (other than from Seeking Alpha). I have no business relationship with any company whose stock is mentioned in this article.