As I stated back in early December 2017 in my previous update on the SPDR Gold Trust ETF (GLD):
The next FOMC meeting is scheduled for December 12-13, and it's a done deal that the Federal Reserve will raise the Fed Funds rate by another 25 basis points. If there is one thing the bears have working in their favor at the moment, it's the fact that GLD has declined (sometimes aggressively) leading up to all recent Fed meetings in which a rate hike was expected…the next 10 days still definitely favors those negative on gold. But this is the last hope for the bears of getting a rout to materialize in gold between now and the end of the year. If they can't get something going here very soon, then they will have their backs up against the wall, as the returns in GLD over the next month following these rate hikes have typically been very strong.
Sure enough, GLD has followed this projected path as it declined right up to the Fed meeting and has swiftly reversed course since then. It's surged higher over the last several weeks and has closed in positive territory for 11 days in a row. Although it's certainly due for a pullback.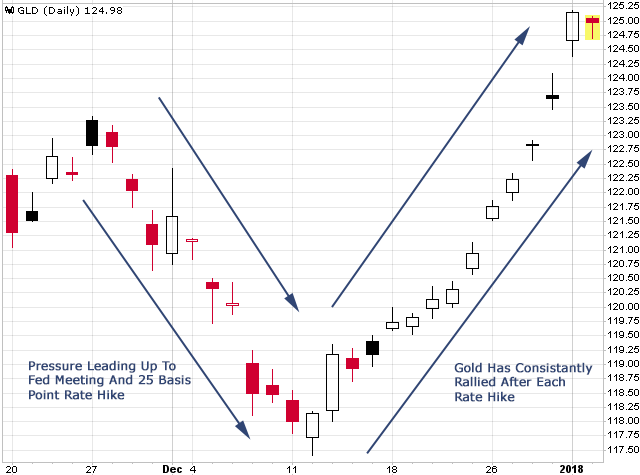 (Source: StockCharts.com)
As I pointed out just before the start of Q4 2017, most investors were anticipating a major decline in gold during the last quarter of this past year. Not only was this a clear contrarian signal, but the reasonings put forth for a substantial drop were illogical (especially when looking at historical Q4 trading of gold during bull markets).
Gold actually spent most of the quarter in a very tight trading range and was basically flat for the majority of the time. All the bears could muster was just that brief ~2.5% sell-off right before the Fed meeting, but that loss has since been more than fully recouped and shorts have scrambled for cover. That vicious decline that so many expected simply never materialized. Likely because it was based on flawed analysis.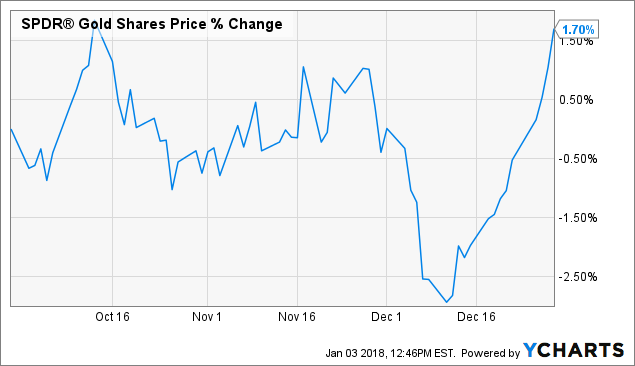 There is a big difference between how gold performs in Q4 when it's in a bull market vs. a bear market. This is the performance of the metal during its 2002-2010 bull run. The shorts are lucky that gold didn't bury them like it has in previous bull years.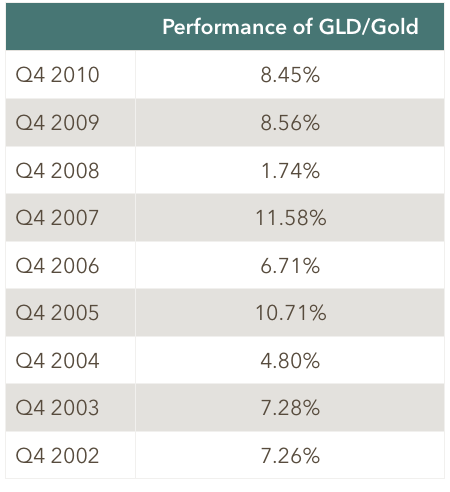 (Source: SomaBull)
Many keep saying this isn't a bull market. Investors keep listening to these calls and losing out on some big returns, especially in the gold stocks.
Gold And The S&P 500 Rising In Tandem
GLD has risen 24.31% since it bottomed in late 2015, while the S&P 500 is up 32.71% during that time (if you include dividends, the return is a little stronger). Both have been moving higher over the last few years and the SPX has only taken a firm lead in the last few months. If you would have asked investors, economists, and talking heads back at the start of 2016 where gold would be trading if the S&P went up by 32% over the next 2 years, the vast majority would have given an extremely bearish response. Yet here we are: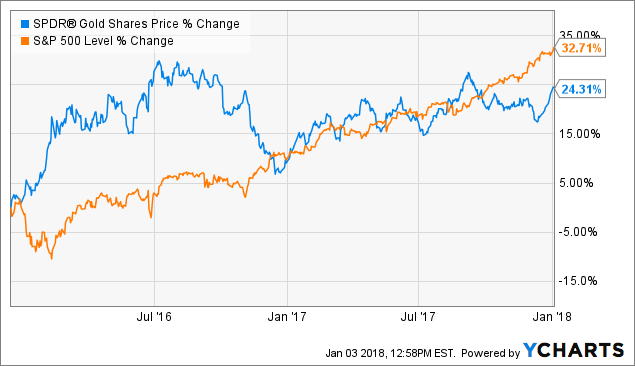 While general equities and gold typically trade inverse to each other, it's not a perfect correlation and there was always a scenario where they could rise in tandem (which I discussed in previous articles). In this environment, where rates are still ultra low and the Fed is giving inflation plenty of room to run, there isn't much to stop either gold or the stock market from moving higher. Throw in current economic policies/tax cuts of the Trump Administration, and this is the perfect breeding ground for an inflation spike.
We have the yield on the 3-year now above 2%, which is the highest since 2009. This is most definitely something to pay attention to as it's clearly not signaling tame future inflation data and/or a Fed on hold anytime soon. Markets are always forward-looking.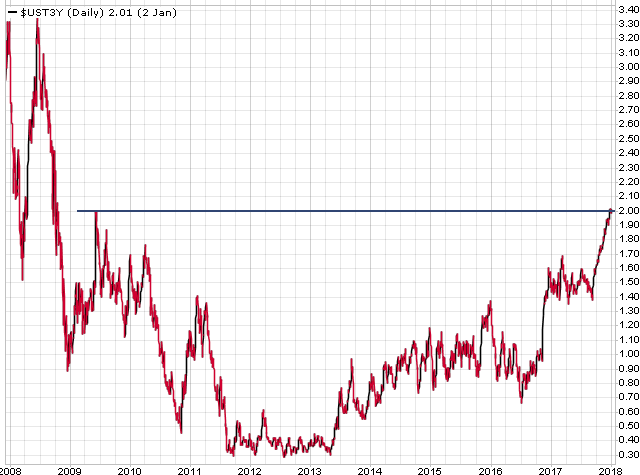 (Source: StockCharts.com)
We have the Producer Price Index now at multi-year highs on a percent change basis (both Total and Core PPI). The PPI has increased 3.1% YoY, a level not seen since 2011. Core prices are at a 12-month rate of change not seen since 2012.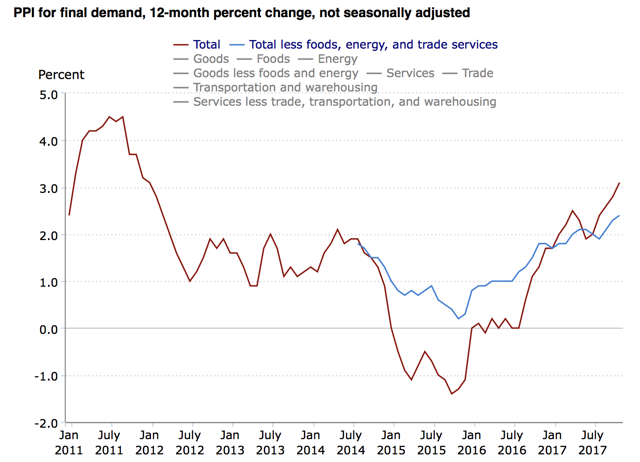 (Source: BLS)
The stock market is reacting to the positive catalysts hitting the economy in combination with the still low interest rate environment. Gold is reacting to rising inflationary pressures and investors are taking advantage of its ultra cheap valuation. Eventually, the stock market will hit a wall and gold will keep moving higher, but it's unclear when that break will occur.
The stock and bond market are certainly due for a correction. A 60:40 portfolio of US stocks and bonds hasn't had a 10% decline since 2009. You have to go back to the 1930s to have a longer run, and we are basically near that mark right now. If bonds roll over and rates spike along with inflation, expect at least a 10% drawdown for a portfolio with this weighting.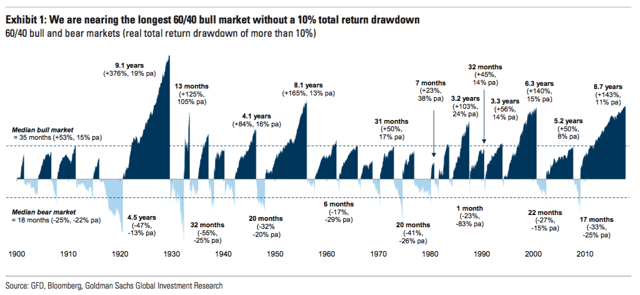 (Source: Bloomberg)
I'm not calling for a top in the stock market; I would actually prefer to see it continue to gain even further ground. Clearly, it's not having a negative impact on gold so I wouldn't be worried about the precious metals sector in that scenario. Surging equities will eventually reach a tipping point where investors start to assess the rising rate environment due to inflationary pressures and adjust accordingly. I'm not sure we are there yet, as rates have only begun to normalize and are still quite low.
This environment could stay intact for a while longer even though I expect further rate increases. I'm ignoring the flattening yield curve and recession warnings as I think that's too early of a call. We continue down a path that will be highly positive for gold, yet eventually, very negative for stocks.
Commodities Cheap Compared To The S&P
Gold is only starting to get its form back, while the S&P has been increasing for years. By comparison, gold is a far more compelling opportunity in terms of 2-5-10 year return potential compared to the stock market. Other commodities like silver looked primed for a re-rating as well.
DoubleLine's CEO Jeffrey Gundlach is one of the few major fund managers to be bullish on gold. In a webcast last month, he stated:
"If you ever thought about buying commodities… maybe you should buy them now."
This is the graph he used to show how cheap commodities are compared to the S&P 500. The S&P GSCI Total Return Index is trading at historical lows when compared to the $SPX. As Gundlach states: "We're right at that level where in the past you would have wanted commodities instead of stocks."
Over the last 50 years, commodity prices have only been this cheap relative to the S&P on two other occasions – at the beginning of the 1970s (just when the U.S. went off the gold standard) and during the height of the Dot.com bubble. Commodities far outperformed the S&P over the next 5-10 years in each of those two instances. Gundlach isn't suggesting just to buy gold, as he believes investing "in commodities broadly rather than gold alone."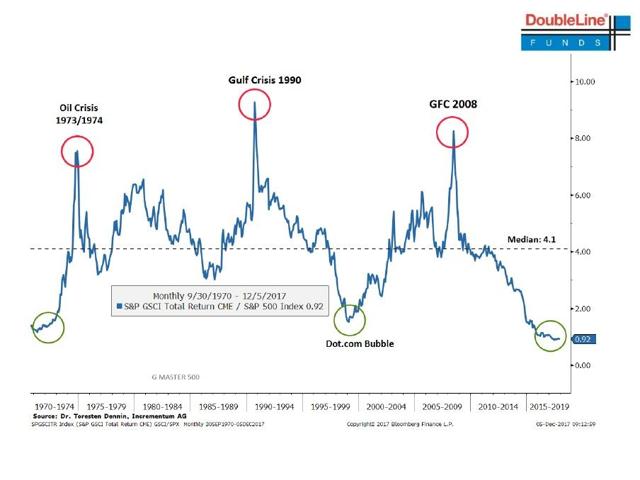 (Source: DoubleLine)
The only issue with the S&P GSCI is that oil makes up about half of the index, and that sector has long-term structural issues to contend with. It's unclear if we will actually see this index rise to its previous peaks, as those tops were fueled (no pun intended) by an oil crisis. Having said that, even if you remove oil from the equation, other commodities like gold, silver, wheat, corn, etc. are historically cheap and seem to offer much better future returns than stocks. I expect these commodities to do extraordinarily well as strong demand cycles always reemerge.
GLD And The HUI – The Current Technical Picture
The MA (100) on the weekly chart of GLD has acted as very strong support/resistance for years now. The 100-week has been on the rise since 2016, and GLD has found support every time it has declined to this level. Gold breached the MA (100) last month, but it has vaulted back above since then and appears poised for a major surge.
When I look at this chart, I see a few things: One, it shows the ebb and flow of the gold sector from a longer-term perspective (which is the most important way to observe a market). Two, it shows that bullish momentum continues to build. Markets like this don't turn on a dime, it takes time to gain steam after a change in trend has occurred. The MA (100) is now accelerating to the upside as GLD increases in strength.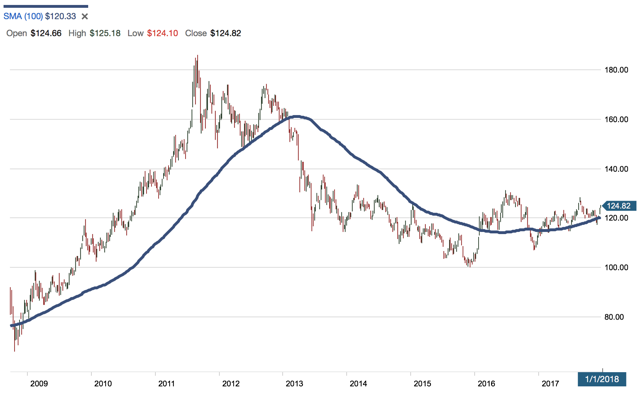 (Source: Schwab)
180 had acted as key support for the HUI throughout 2017, as the index managed to bounce every time it touched this level. Last month, though, the HUI was unable to rebound when 180 was hit and instead kept declining. At that point, the concern was that the index would continue to fall to 160 or possibly even lower. However, I warned subscribers of The Gold Edge that a break below 180 could be a bear trap and "any swift reversal back above 180 over the next few days shouldn't be ignored."
We did get a reversal and now the HUI is approaching 200. It's not out of harm's way yet but this chart is much more bullish. Despite the uncertain short-term outlook, there is no question about the long-term direction of this index, it's going much higher.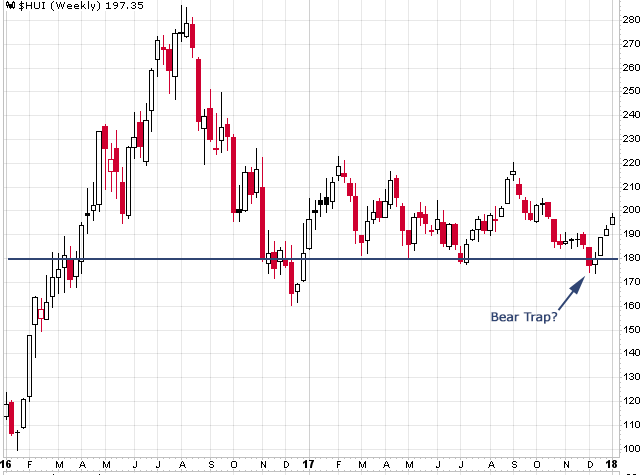 (Source: StockCharts.com)
I do want to point out that the HUI is forming a perfect rounded bottom and there is some nice symmetry in terms of an inverse head and shoulders pattern. The right shoulder is basically complete, and if 200 can be taken out again, then the stage is set for a surge in gold stocks over the next several years.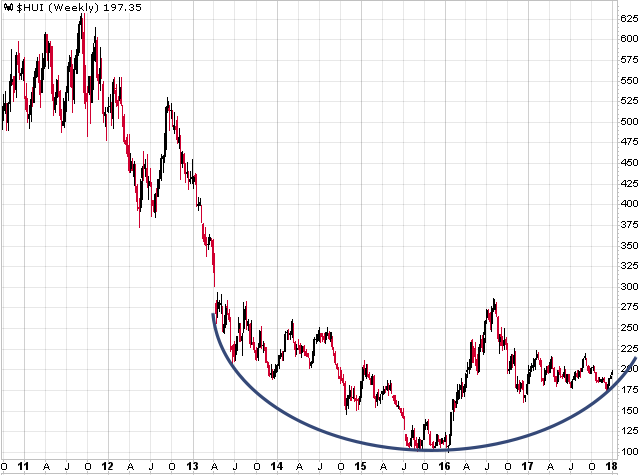 (Source: StockCharts.com)
Expectations For 2018
2016 was a fantastic year for this sector and a great one for me personally as an investor. 2017 was more of a stock picker's market in the precious metals space, but there were still strong gains to be had if you were in the right gold miners. To follow up stellar returns in the first year of the bull market with solid gains last year, proves that the downtrend is well behind us and a new long-term uptrend has emerged. I expect in 2018 that this bull will assert itself more aggressively, and by the time it's all said and done, there should be no question about whether the precious metals are in a bull market or not.
If the sector doesn't break out in the next few weeks, at most this drags on for another 2 months or so. My gut tells me a surge above major resistance happens sooner rather than later, but I'm prepared for anything and everything in this sector.
There will be big winners – and likely some big losers – this year given this is the gold mining sector and prospects can change fast, but I expect a more uniform appreciation in gold (and silver) miners in 2018 compared to last year. It will be similar to the run in 2016 but yet still different in some facets. I'm expecting a more stable price appreciation environment and not as jarring of corrections. I don't believe there will be any 50% drawdowns.
This is about making sure one is positioned properly and has a clear and exact game plan to work off of so no profits in this phase of the bull market are missed out on. The goal is full participation during the run.
The Gold Edge
I offer a premium service on Seeking Alpha called The Gold Edge. I believe this strong surge in the gold market will continue for the foreseeable future. While we are in this surge, there will be lots of volatility, which means lots of opportunities.
If you would like to read more of my thoughts, ideas, and research on the gold sector, including which companies I believe are best positioned for outsized returns in this bull market, you can subscribe here.
Disclosure: I/we have no positions in any stocks mentioned, and no plans to initiate any positions within the next 72 hours.
I wrote this article myself, and it expresses my own opinions. I am not receiving compensation for it (other than from Seeking Alpha). I have no business relationship with any company whose stock is mentioned in this article.