The Company
WidePoint Corp. (NYSEMKT:WYY) is a US company founded in 1997 and headquartered in McLean, Virginia, that grew through acquisitions and mergers of IT consulting firms. It currently has about 300 full-time employees, plus consultants and temporary employees, runs offices in Columbus OH, Fairfax VA, Hampton VA, Fayetteville NC, Dublin, Reading UK, and the Netherlands, and five data centers located in Ohio, North Carolina and Virginia. It is specialized in technology-based product and service management solutions in the fields of wireless mobility management, cybersecurity, and consulting services. Specifically, it offers mobile, telecom solutions and expense management, identity services and Cert-on-Device (a cloud-based service that provides secure digital certificates to all types of mobile devices in order to enhance the information security assurance), analytics and management services, and communication integrated platforms to both the public and private sectors.
The Market
WidePoint operates in a fast growing market. Most of its customers are located in North America, where the service IT market is growing 15%+ per year (see research by Gartner.com), and Europe (Ireland, UK and Holland generate 6% of total revenue, and the share is falling). Some major drivers of growth have been identified by WidePoint as:
Mobile workforce expanding faster than in any prior technology cycle
Mobile devices forcing IT departments to support multiple, disparate platforms
Identity management & assurance has become critical to prevent ongoing network breaches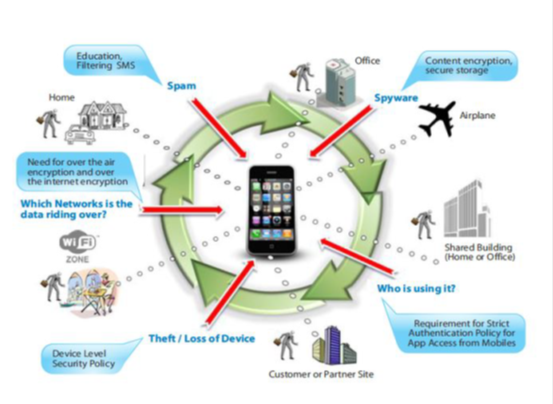 While the company's private clients (among them JPMorgan Chase (NYSE:JPM), U.S. Bancorp (NYSE:USB), Cardinal Health (NYSE:CAH), Advanta, Carnegie Mellon Univ., Delta, FedEx (NYSE:FDX)) belong to a multitude of industries (Financial, Healthcare, Education, Retail, Transportation, etc.), WidePoint's main customers are federal agencies and their contractors. WidePoint sometimes also acts as a subcontractor to large IT corporations (such as AT&T (NYSE:T) which, by the way, recently won a large contract with the US Army). The company's focus on the public sector (more than 80% of total revenues) is unlikely to be reduced in the future. WidePoint has not been very successful in penetrating large private companies.
The public sector IT market is growing slowly but steadily. Network security concerns above all – a segment where the company is strong – are growing by the day. The Trump administration has asked for $95.7 billion for federal IT in 2018, up from $94.1 billion this year and $90 billion in 2016, most of it for the Department of Defense (source). The overall increase comes as the Office of Management and Budget details plans to move agencies off legacy IT systems that account for more and more of agency IT budgets.
"From FY 2015 through FY 2018, government-wide legacy spending as a percentage of total IT spending rose slightly from 68 percent to 70.3 percent. Aging legacy systems may pose efficiency and mission risk issues, such as ever-rising costs to maintain and an inability to meet current or expected mission requirements," OMB wrote in the IT chapter of the budget request. "Legacy systems may also operate with known security vulnerabilities that are either technically difficult or prohibitively expensive to address and thus may hinder agencies' ability to comply with critical statutory and policy cybersecurity requirements."
Government Contracts
WidePoint's government client base is largely located in the Mid-Atlantic region of the U.S. Most contracts last in principle up to five years but are subject to annual renewal (normally not an issue). WidePoint currently holds major prime contracts with – among others – the Department of Defense, the Department of Homeland Security ("DHS"), the Department of Health and Human Services, the Transportation Security Administration, the Washington Headquarters Services, the U.S. Customs and Border Protection, the Centers for Disease Control, the Department of Justice, the FBI, as well as many government contractors. Recently, the company added some new important customers, such as the US Coast Guard and (as announced on November 1) the Federal Emergency Management Agency, and now provides TLM support to all of the major components of DHS.
Competition
Due to its diverse market capabilities, WidePoint has competitors in many different fields, including "publicly and privately held firms, large accounting and consulting firms, systems consulting and implementation firms, application software firms, service groups of computer equipment companies, general management consulting firms, offshore outsourcing companies". Key competitors currently include Tangoe, Inc. (NASDAQ:TNGO), Calero, KEYW Holding Corporation (KEYW), VeriSign (NASDAQ:VRSN), IdenTrust, SureID, DigiCert, and Entrust, and in cybersecurity as well as consulting, Lockheed Martin Corporation (NYSE:LMT) and Northrop Grumman Corporation (NYSE:NOC).
Competitors often offer more scale, which in some instances enables them to significantly discount their services in exchange for revenues in other areas or at later dates. Pricing pressure is endemic in the industry. Because of WidePoint's small dimension, significant fixed operating costs structurally lower its competitiveness and profitability potential. Fixed costs may be difficult to adjust in response to unanticipated fluctuations in revenues, but the company is doing its best to manage resources such as personnel and facilities (not much can be done about depreciation) in a flexible way.
Although operating in a highly competitive sector with rapidly evolving technologies and no barriers to entry, WidePoint has arguably demonstrated through the years an ability to dynamically upgrade and preserve its "technological advantages" through a decent level of R&D expenditure, product innovation, acquisitions, and attracting and training highly skilled professionals such as engineers, scientists, analysts, technicians, and support specialists. Its annual expenditure for internal software development is about $0.6 million. Current development activities are focused on the integration of WidePoint software based platforms, enhancements to improve the delivery of information technology services delivered through these platforms and Cert-on-Device. The company's technology is "production available, scalable, and affordable" – in one word competitive – and so should remain for the foreseeable future.
Federal agencies have a lot of inertia. They are slow to move but once they award a service contract, they tend to perpetuate it. Incumbent service suppliers develop big competitive advantages over potential entrants for they become "insiders", develop relationships, have access to immaterial knowledge (including the likely terms of renewal of service contracts) while not having to face learning entry costs. As the company states in a recent presentation: "Many of our professional staff work on-site or work in close proximity with our customers and we develop close customer relationships." Indeed. Thus WidePoint's business – especially with the US public sector – is rather stable, and revenues are rather predictable. However, due to the relative size of certain clients and contracts – the Department of Homeland Security provided 61% of total revenues in 2016 and its share is growing – the loss of any single significant customer can adversely affect year-end results of operations.
An Improved Governance
After years of disappointing results, WidePoint suffered a period of governance instability that was well described by SA author One Other Fool (you can read the details there). As a result, the company's main shareholder (15.4%), Nokomis Capital, began to have an active role, and was awarded two seats on the Board. Although not a panacea, this has improved shareholders' supervision on management actions. Lately, WidePoint completed its transition with Jin Kang, 53, now "firmly in place and fully in charge" as Chief Executive Officer and President of WidePoint Corporation. The old generation of managers – Steve Komar, Executive Chairman of the Board of Directors and former CEO, and Jim McCubbin, Executive Vice President and CFO – resigned effective October 31, 2017, after guiding the company for 20 years.
Management Ownership
Managers have been adding small amounts to their stock of shares recently; their overall ownership is not bad.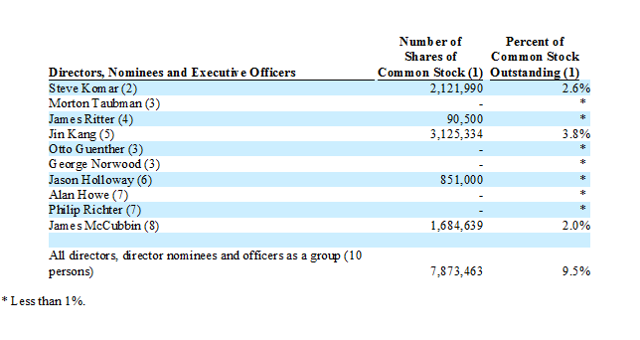 Financial Situation
WidePoint has no long-term debt. At June 30, 2017, net working capital was approximately $3.1 million as compared to $5.0 million at December 31, 2016. However, net losses amounted to roughly $2.5 million in the first half of this year, up from $1.5 million in the first half of 2016 (another $0.3 million was spent on an acquisition). WidePoint Corp.'s adjusted earnings per share data for the three months ended June 2017 was -$0.020, the same as the data for the trailing 10 years ended June 2017. The burning rate was high, and given the depressed price of the stock, there's no margin of error left. To be clear, WidePoint' s Altman Z-Score is 0.99, indicating it is in Distress Zones, implying bankruptcy possibility in the next two years.
WidePoint has a history of losses. Net losses amounted to approximately $4.1 million, $5.5 million, $8.4 million, and $1.7 million during the years ended December 31, 2016, 2015, 2014 and 2013, respectively. As of June 30, 2017, accumulated deficit was $68 million. Thus investing 10 years ago in WidePoint's stock would have yielded -51% (the S&P 500 yielded +82%). And it never paid dividends. This negative past increases the dilution risk, should the stock appreciate, or if revenues disappoint again, or there is a need to finance an acquisition: companies such as WidePoint cannot help but grow in dimension and technological capability.
One positive legacy of its disappointing past is that, as of June 30, 2017, the company had approximately $33.4 million in net operating loss (NOL) carry forwards available to offset future taxable income for federal income tax purposes, and approximately $30.0 million available to offset future taxable income for state income tax purposes. These NOL carry forwards expire between 2020 and 2036. Thus the ability to utilize these deferred tax assets depends upon its ability to generate future taxable income.
Outlook and Opportunity
The company has launched at the beginning of this year a fixed-cost reduction program, targeting especially general and administrative expenses, that is beginning to have a positive impact on the balance sheet. Facilities, offices, and disaster recovery sites are being consolidated, and staff and operational personnel are being cut by reducing technology platforms and combining redundant help desk support across functions. More worrisome, sales resources are being reduced too, as well as product and software development expenditures. This may show some "desperation" but as a consequence, third-quarter losses are expected to be minimal.
On the revenue side, WidePoint is attempting new, less aggressive pricing strategies with its own clients, while aggressively targeting competitors' customers with lower introductory pricing to garner increased market share, and emphasizing higher margin solutions. I don't know whether this short-term profit-boosting strategy will succeed, without hampering the much needed growth in scale. I estimate WidePoint's annual revenue in 2017 to be broadly in the $84-86 million range ($78.4 million in 2016). Cost of revenues and operating expenses should reach $84-87 million: net loss should be $1.5 million or less, which implies a clearly profitable Q4.
The new contracts with the Coast Guard and FEMA could realistically boost revenue by at least $6-10 million in 2018 alone, although they will also raise operating expenditures. Furthermore, it is now becoming clear that penetrating the public sector takes a long, long time and translates into profits very slowly. For example Todd Dzyak, CEO of WidePoint Integrated Solutions, declared, "We look forward to expanding our managed services support and to introducing our enhanced TM2 Framework to FEMA," hinting at how penetration proceeds in steps and takes time. But old contracts with other federal agencies are slowly producing a growing business stream.
Risks
As I suggested, WidePoint is an inherently risky bet. It's a small cap with a history of losses and limited equity, operating in a highly competitive industry without the economies of scale of some competitors, and with a concentrated customer base. WidePoint has been unable in the past to raise prices to profitable levels. Thus, notwithstanding strong revenue growth, it still has to prove it can turn growth into consistent profits. If pricing pressure continues to adversely affect the bottom line, WidePoint could drag itself for a few years more until an adverse shock or a gradual decline in its technological capability pushes the company toward bankruptcy. A dilution of shareholders in 2018 is also possible if expected revenues and profits are slow in coming.
Having said that, it seems to me that these fears are largely based on a backward-looking perspective. Recent events have substantially de-risked the company's medium-term outlook. Even in a pessimistic and disappointing scenario, where the revenue growth does not generate all of the expected profits, I have no doubts that 2018 will be in the black, giving the company (and the stock) a breathing space. In the IT services industry, M&As are frequent and as the balance sheet improves, WidePoint could become a target for a buyout. Such consolidation would solve the scale problem and reward shareholders.
Conclusions and Takeaway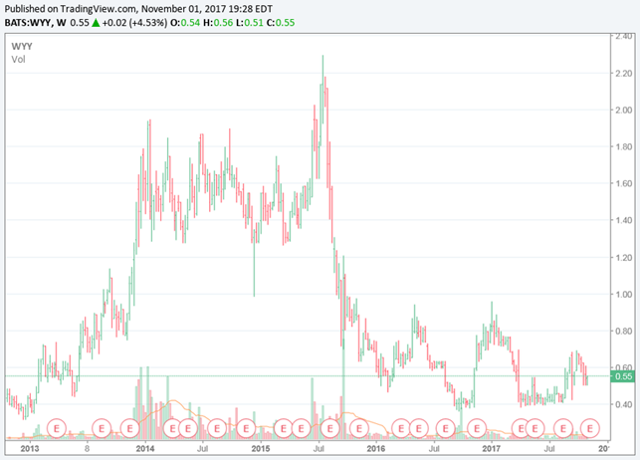 Clearly, a turnaround is developing, based on a cost-cut strategy and some major recent contract awards. These awards are not a coincidence but rather the product of a slow, long-term strategy that is now bearing fruit. In 2018, net profit should reach $3-5 million, or $5c. per share (P/E ? 10). Current market capitalization, about $45 million, does not reflect the company's stockholders' equity (net assets) of about $28 million and current revenue trends. More than inherent risks, it is past history that weighs on investor confidence, creating an opportunity. The next (Q3) earning release in mid-November and an updated management guidance for 2018 should boost this unloved stock – currently trading at $0.54 – by 35% in the short term and by 90% by mid-February. I expect this stock to price $1.30/1.55 a year from now (+270%), although in a best-case scenario, it could reach $2-2.20 (+380%). As usual, risk and reward go hand in hand: only fools put all their eggs in one basket.
Disclosure: I am/we are long WYY.
I wrote this article myself, and it expresses my own opinions. I am not receiving compensation for it (other than from Seeking Alpha). I have no business relationship with any company whose stock is mentioned in this article.
Editor's Note: This article covers one or more stocks trading at less than $1 per share and/or with less than a $100 million market cap. Please be aware of the risks associated with these stocks.